Who we are and what we do
We offer an undergraduate program leading to a Bachelor of Arts degree in Television, Film, & Media Studies. Students can also pursue a Master of Arts degree in Television, Film, & Media Studies or, jointly with the Department of Theatre and Dance, a Master of Fine Arts degree in Television, Film, & Theatre.
News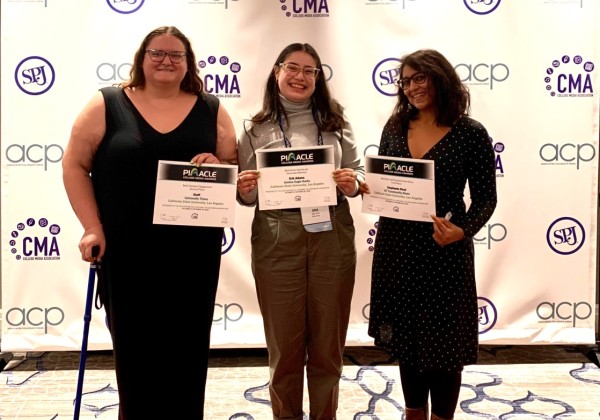 Journalism Students Win National Awards
The College Media Association's national Pinnacle Awards honored three Cal State LA Journalists for their work an event in Washington, D.C. on October 26.  Stephanie Sical was awarded First Place for Best Arts & Entertainment Story for her story on the Lowrider Ladies of Los Angeles. The University Times placed second for Campus Engagement and Erik Adams received an Honorable Mention for Best Audio Sportscast, which hears from the National Hockey League fans in the San Gabriel Valley.
Photo: University Times Managing Editor Victoria Ivie, Editor-in-Chief Mia Alva and Advisor Julie Patel Liss accept the awards.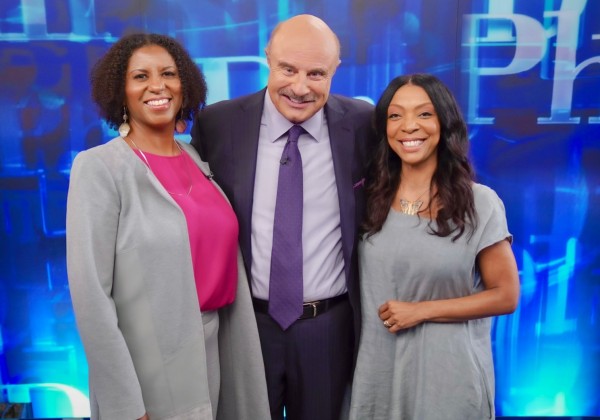 Journalism lecturer featured on "Dr. Phil" show
 Shaunelle Curry will be making her national television debut on the "Dr. Phil" show.  Curry discusses the rise of victim mentality and the discussion of whether we are raising a generation of victims.  The conversation also touched on victim culture among students on college campuses and an additional segment on that topic featuring Cal State LA students may appear in a future show. 
Pictured above: Lecturer Shaunelle Curry (left) with Dr. Phil McGraw (center) and Donna-Marie Reid, Creative Director and CEO of Undeniable Films on the set of "Dr. Phil."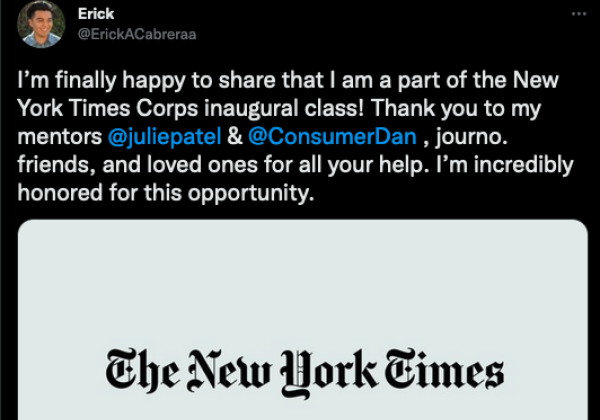 Journalism student joins new New York Times Corps
Cal State LA senior Erick Cabrera has been selected as an inaugural member of The New York Times Corps, a talent-pipeline program that pairs students with mentors at the news outlet. In his Tweet announcing the news, Cabrera recognized the head of Cal State LA's journalism program, Julie Patel Liss, and EdSource journalist Daniel Vasquez. Cabrera was among only 20 young journalists selected out of hundreds of applicants for the program.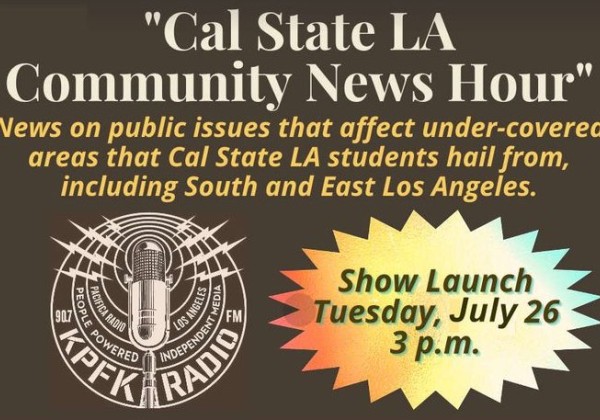 Cal State LA's monthly radio news show debuts on KPFK 90.7 FM
"Cal State LA Community News Hour" launched this summer on KPFK 90.7 FM.  The program airs monthly with a combination reporting, discussions and interviews largely produced by students who cover campus and the areas they live in. Episodes can be heard on the last Tuesday of the month at 3:00 p.m. You can listen to previous shows via the station's archive.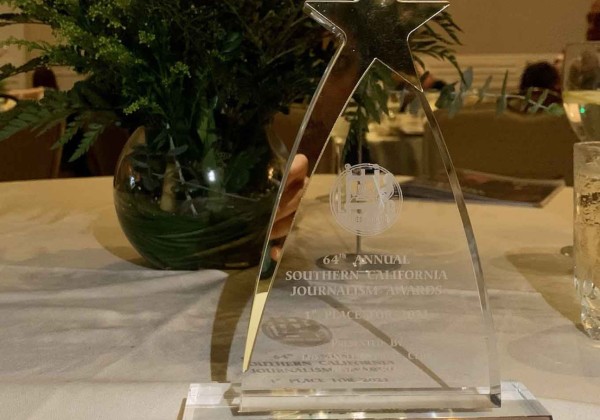 Cal State LA Journalism students earn LA Press Club awards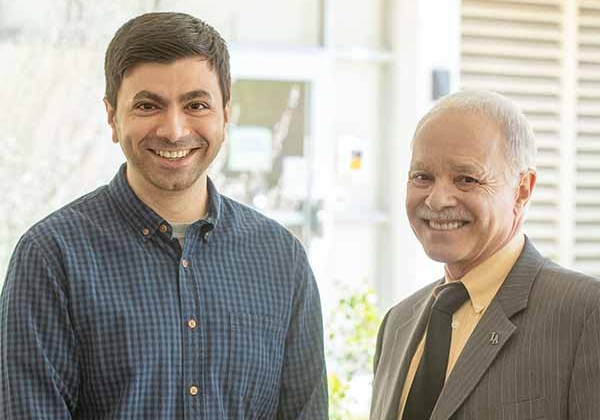 TVFM Lecturer honored as WellBeingU Champion
 TVFM faculty member Nidhin Patel was among three people named Cal State LA WellBeingU Champions for their outstanding dedication to creating a culture of caring and compassion at the university. 
Patel, student Ashley Lepe and staff member Joanna Gaspar received certificates at an April 27 ceremony kicking off the WellBeingU Interview Series.  
Fellow faculty members have benefitted from Patel's self-care guidance and instruction on supporting students by including trauma-informed pedagogy. 
Pictured above: Lecturer Nidhin Patel (left) and Cal State LA President William Covino. Photo by: J. Emilio Flores
Cal State LA students' film 2022 Coca-Cola Refreshing Films Finalist
Spotlight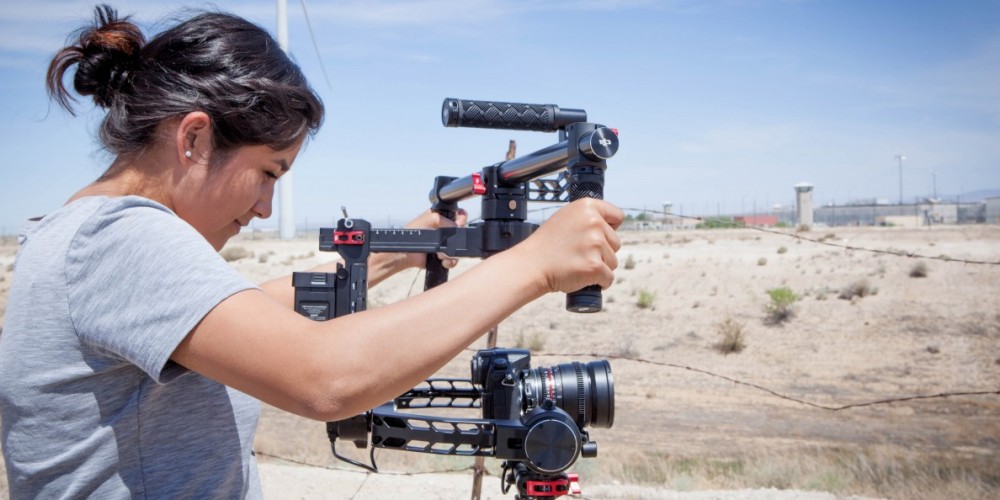 Community Impact Media
Hauser & Wirth LA recently partnered with Cal State LA's Television, Film, & Media Department and the Student Production Unit to co-develop a project titled Community Impact Media.
Television, Film, & Media Center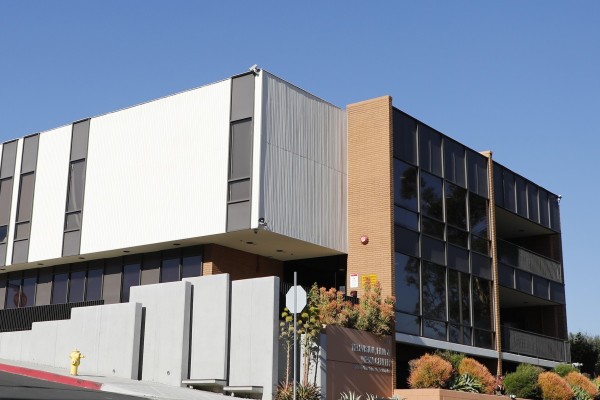 The Television, Film, & Media Center is situated on the hill overlooking the northwest area of campus. This state of the art instructional and production facility provides student resources in all phases of media production and critical studies.
Telemundo Journalist Juan Ricardo Gomez is a Golden Eagle
Juan Ricardo Gomez reporting for Telemundo