Juan Ricardo Gomez • Class of 2022
Juan Ricardo Gomez is a producer and reporter at San Diego's Telemundo station.
Briana Muñoz • Class of 2021
Champion Newspapers hired Ms. Muñoz in October 2021 and she was excited to start her career with a full-time journalism job.
Marisa Martinez • Class of 2021
Tony Quach • Class of 2019
Tony Quach reports on the Lady Knights of Crestview who are coming off a 23-4 season and winning an NWC record 17th conference title. They begin their 2021-2022 season with a 7-0 record.
Dina Abou Salem • Class of 2019
Ms. Salem is a multimedia producer for the Middle East Broadcasting Networks based in Washington, D.C. She previously worked for ABC News and became a member of the National Press Club of Washington in 2021.
Field trip to Dodger stadium, May 2018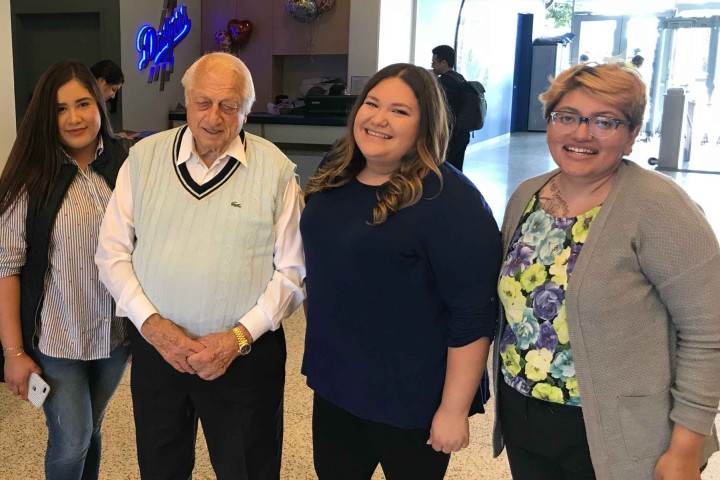 Ms. Cruz is a Production State Manager for the Los Angeles Football Club's broadcasts on MY13 KCOP - Fox 11 Los Angeles.
The late Mr. Lasorda was a legendary baseball player and manager. He managed the Los Angeles Dodgers from 1976-1996.
Ms. Reveles is a Multimedia Journalist for the University of Southern California's Annenberg Media.
Ms. Velazquez is an Associate Sports Producer at KTLA.
Michael Thomas (Gonzalez) • Class of 2018
Michael Thomas (Gonzalez) works in TV news in Michigan. He covered the Oxford High shooting in late 2021 for his station group.