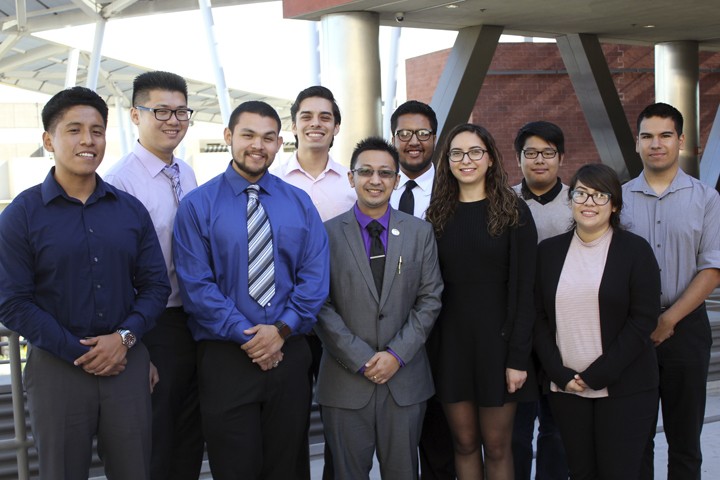 The College of Engineering, Computer Science, and Technology (ECST) offers accredited programs in civil, electrical, and mechanical engineering; computer science; and industrial technology, as well as California's only public university programs in aviation administration, fire protection administration, and graphic communication. We serve over 3,000 undergraduate majors and over 350 graduate students. Our rigorous curriculum prepares students for a broad range of successful technical and management careers in competitive job markets.
Funding Priorities
Support the College of Engineering, Computer Science & Technology's mission to Commit to excellence. Engage in community.  To make an immediate gift, simply complete our secure online giving form. It's easy, safe, and convenient.
A state-of-the-art workspace to inspire and promote hands-on learning, collaboration, and innovation, with tools and spaces for student design projects. Visit the ECST Makerspace.
Pre-college and first-year programs designed to inspire and strengthen students' engagement with engineering, computer science, and technology, build strong fundamentals and develop the college community. We invite you to explore the Acceleration Initiative programs.
A program that places student teams in an industry setting, where they combine theoretical knowledge and hands-on skills to create real-world solutions for client-identified problems. More About ECST Capstone.
Provides scholarships and other support to deserving students.
Provides the Dean of Engineering, Computer Science, and Technology with support to help implement the college's Strategic Plan.
Recognition
U.S. News & World Report ranked Cal State LA's undergraduate engineering program in the top five for its category; in addition, the National Science Foundation recently (2017) ranked Cal State LA as the top supplier of Latino science and engineering Ph.D. recipients among all undergraduate and master's degree-granting colleges and universities in the continental United States. We are a powerful engine of social mobility.
In 2021, 
American Society of Engineering Education Diversity Recognition Program (ASEE EDC) recognizes Cal State LA, College of ECST with the highest honor, Bronze Level status for significant, measurable progress in increasing diversity, inclusion, and degree attainment outcomes of their programs. Being among the nation's leaders in inclusive excellence. Committed to establishing support for groups underrepresented in engineering, quantifiably analyzing and assessing composition, policies, culture, and climate-related to all groups underrepresented in engineering. Implementing programs and initiatives that strengthen the K-12 or community college pipeline, reducing significant long-term growth barriers, and developing an action plan focused on continuous improvement.
The 
Contact Us
Through the generosity of your donations, the College of Engineering, Computer Science, and Technology is able to impact the outcomes of our students. Together we continue to Commit to excellence. Engage in community.
Nancy Warter-Perez, Ph.D.
Dean,
College of Engineering, Computer Science, and Technology
(323) 343-4500
[email protected]
Kevin Doody
Director of Development, 
College of Engineering, Computer Science, and Technology
(323) 343-3071
[email protected]
---
College of Engineering, Computer Science, and Technology
5151 State University Dr., Building E&T
Los Angeles, CA  90032-8150
Phone (323) 343-4500 | Fax (323) 343-4555 | Email [email protected]