Graduate Policies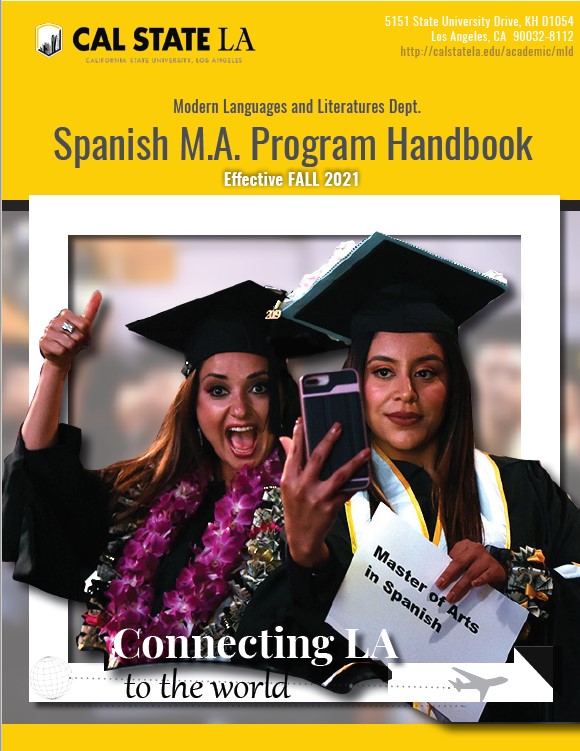 Cal State LA Spanish M.A. Graduate Student Handbook (download this pdf file) has information about applying to graduate programs, financing a graduate education, and important policies and services for graduate students.
The University catalog describes the general graduate requirements as well as the details of the Spanish M.A. program.
This document is intended to supplement the catalog and does not supersede it in any way.  For all official rules and requirements, please consult the current catalog.
Generally, applicants must have a baccalaureate in Spanish. A 2.75 GPA in the last 60 semester units and a 3.0 GPA in Upper Division Spanish courses are required.  Students who do not meet the grade point requirements may be admitted by special action (see University Catalog and consult the Department Graduate Advisor). Applicants whose undergraduate major was not in Spanish, as appropriate, must consult the Department Graduate Advisor in order to determine prerequisites or their equivalents.  
All applicants must apply to the University online at Admissions and Recruitment Homepage </admissions>.  THIS REQUIREMENT MUST BE MET WHETHER THE CANDIDATE IS A GRADUATE OF CALIFORNIA STATE UNIVERSITY, LOS ANGELES OR OF ANOTHER INSTITUTION. In addition to the University application, a departmental application is required, and an oral proficiency interview may be required.  Please click here to download the departmental application form (Spanish, M.A. Program in the Department of Modern Languages and Literatures).
The M.A. degree in Spanish requires successful completion of a minimum of 33 semester units of course work plus a comprehensive examination. Spanish candidates must complete a minimum of 21 units of 5000 level course work. Individual programs are prepared in consultation with the Department Graduate Advisor.  Students who have been admitted to the University and have submitted the departmental application should make an appointment with the Department Graduate Advisor as soon as possible.
The M.A. program in Spanish at Cal State LA is intended to provide a basic, yet comprehensive preparation that will meet the needs of students for whom the M.A. will be a terminal degree, and for those wishing to pursue a doctorate.  Questions on the M.A. examination in Spanish will be based on the Reading List that is in place at the time the exam is taken.  All the works on the Reading List are governed by the guidelines found below.  In cases where the term "selections" appears on the Reading List without qualification, it is expected that students will have read sufficient material by the author to enable them to discuss him/her in accordance with the guidelines.  For more information about Spanish M.A. Comprehensive Examination and the Reading List, please download the following pdf files.
Spanish M.A. Exam Instructions
Spanish M.A. Comprehensive Examination
Spanish M.A. Reading List (effective in Spring 2019)
Spanish M.A. Comprehensive Examination Result Report Form (effective in Spring 2020)
Graduate Students are exempt from UNIV 4000 (Writing Proficiency Examination in English) or the course alternative, UNIV 4010, if they hold an earned bachelor's degree or higher from an accredited college or university where English is the primary medium of instruction. Graduate students are also exempt from UNIV 4000 if they have a score of 41 or better on the writing portion of the California Basic Education Skills Test (CBEST) or a score of 4 on the analytic writing portion of the GRE or GMAT. Otherwise, graduate students must pass UNIV 4000 within two semesters of admission. See the Schedule of Classes for further information and examination dates.
The approved M.A. program must be completed within seven years, with a grade-point average of 3.0 or higher.  Failure to sustain a 3.0 average will result in probation and eventual disqualification from the Master's program.  Failure to meet this requirement will result in disqualification.

All applicants, regardless of citizenship, whose preparatory education was principally in a language other than English must demonstrate competence in English.  Those who do not possess a bachelor's degree from a postsecondary institution where English is the principal language of instruction must receive a minimum score of 550 on the Test of English as a Foreign Language (TOEFL).  For further information regarding this requirement, consult the University catalog.
Graduate Teaching Associate (GTA) Program
DEPARTMENT OF MODERN LANGUGES AND LITERATURES
GRADUATE TEACHING ASSOCIATE (GTA) PROGRAM
IN SPANISH
Degree-seeking graduate student in the Department of Modern Languages and Literatures/Spanish.
Teaching Associates must be currently enrolled in or admitted to the M.A. in Spanish graduate degree program. The successful applicant will work effectively, respectfully, and collaboratively in diverse, multicultural, and inclusive settings.
The applicant must be a degree-seeking graduate student in the M.A. in Spanish program and must be enrolled in courses towards the completion of that graduate degree during the appointment period.
(1) Native or near-native proficiency in Spanish.
(2) Good academic standing at Cal State LA, i.e., at least a 3.0 GPA in Spanish M.A. courses.
(3) Spanish B.A. with a 3.5 GPA or above. If the applicant does not have a B.A. in Spanish or does not have a GPA of 3.5 in his or her B.A. and is found to be ineligible, he or she may reapply after taking at least three courses from his or her approved, official Spanish M.A. program with an average GPA of 3.5 or above. Prerequisite courses in Spanish approved by the MLL Department may count as one or more of these 3 courses.
(4) Commitment to completing a TA orientation workshop during the first weeks of employment. The Spanish program cannot guarantee the workshop will be offered every semester.
Successful candidates will teach Elementary Spanish and hold office hours accordingly.
Please submit: a letter of application, curriculum vita, GET print-out verifying enrollment in a program of graduate study in this department; three letters of recommendation*; an application for appointment as a graduate teaching associate in MLL/Spanish and the University's Application for Academic Employment
Please click here to download a MLL/Spanish GTA application form (Word file).
Please click here to download the University's Application for Employment (pdf file).
*Two of the three recommendation letters must be written by faculty with whom applicant took either fourth-year college or graduate Spanish courses. Applicants who have taught Spanish in a high school may use letters from supervisors.
Employment is contingent upon proof of eligibility to work in the United States.
Reassignment as a GTA is contingent upon satisfactory instructional performance as measured by student evaluations, class visitation reports of the GTA supervisor done at appropriate time, department needs, et cetera.
If a student fails to maintain the eligibility requirements listed above, or withdraws from the University, his/her appointment will be terminated.
For further information, contact the Department of Modern Languages and Literatures at (323) 343-4230 or write to:  Department of Modern Languages and Literatures, California State University, Los Angeles, 5151 State University Drive, Los Angeles, CA  90032.