The faculty and students of Cal State LA's College of ECST are pleased to present the 2021-2022 Capstone Senior Design Expo. The senior design presentations from Civil Engineering, Computer Science, Industrial Technology, Graphic Communication, Electrical Engineering, and Mechanical Engineering will be presented LIVE and IN-PERSON on our campus, Thursday, May 5th. Please register to attend this event.
Expo Overview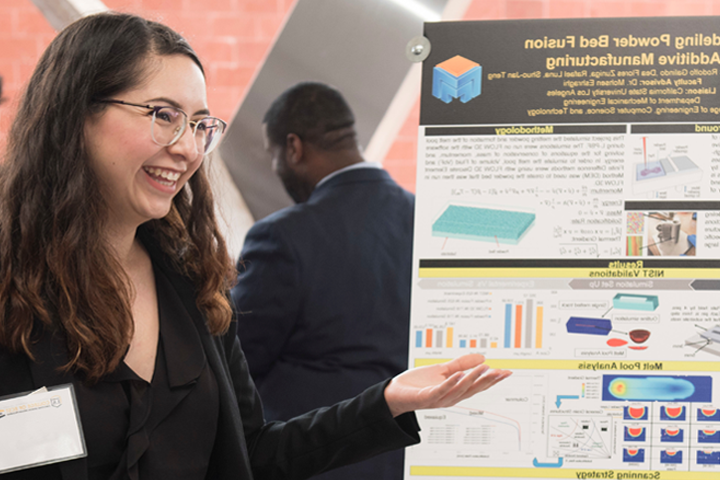 THU • MAY 5TH
Expo will showcase Capstone projects with a 20-minute student team presentation and project demonstration followed by a 10-minute QA session.
Presentations will take place at the Golden Eagle Ballrooms and the University Student Union rooms.
Posters will be displayed at E&T College of ECST Courtyard, with an opportunity to further discuss projects with the student teams.
Projects and Presentations
The expo sessions are organized mindful of busy schedules and designed to maximize a meaningful audience and student interaction. Join us for the opportunity to speak with talented students and evaluate novel ideas. Click on the ECST Capstone program name to view the projects, descriptions, and presentation schedule details.
View 2021-2022 projects and program schedule
Each of the ECST Capstone programs will have a unique schedule.
Schedule subject to change, please check for possible updates closer to the event date.
Thank you
This event is made possible with the support of our partners.
We would like to acknowledge
Southern California Edison, Southern California Gas Company, Raytheon Technologies, Jet Propulsion Laboratory, MathWorks, The Aerospace Corporation, Boeing Company, hatchTank Innovations, The Office of Naval Research, U.S. National Park Service, Aztec Engineering, NASA, City of Los Angeles, Kinematic.Bike, Toyota, Commonwealth Casualty Company, Vodafone Group, LA County Office of the Public Defender, QTC, AT&T, LA City Department of Public Works, LA County Bureau of Engineering, ArQive, The Institute for Interactive Arts, Research & Technology, We2Link, AM2L at Cal State LA, BioTim Research Group, Cal State LA Facilities, Eagle Rocketry SEDS, Biomedical Engineering Society, Solar Demonstration Lab, John Wieland, Inc., Grid Alternative Inc., Cal State LA College of ECST, Cal State LA Departments of Civil Engineering, Mechanical Engineering, Electrical Engineering, Computer Science, and Technology
Announcements
---
COVID REQUIREMENTS: As we celebrate the achievements of our students, the College of ECST is mindful to maintain the health and safety of all Expo attendees. Please review the Expo Covid-19 requirements and event information page. Registration is required to attend this event. We want to thank you in advance for helping us keep our community safe and healthy during Covid-19.
---
MEDIA DISCLAIMER: When you attend a California State University, Los Angeles (Cal State LA) event, you enter an area where photography, audio recording, and video recording may occur. By entering the event premises, you consent to such media recording and its release, publication, exhibition, or reproduction to be used for news, webcasts, promotional purposes, telecasts, advertising, and inclusion on websites. You further waive all rights you may have to any claims in connection with any exhibition, streaming, webcasting, televising, or other publication of these materials, regardless of the purpose or sponsoring of such exhibiting, broadcasting, webcasting, or other publication.
Get Involved
Find out how you can get involved with the ECST Capstone Senior Design program.
Contact Mike Thorburn, Capstone Director at [email protected]