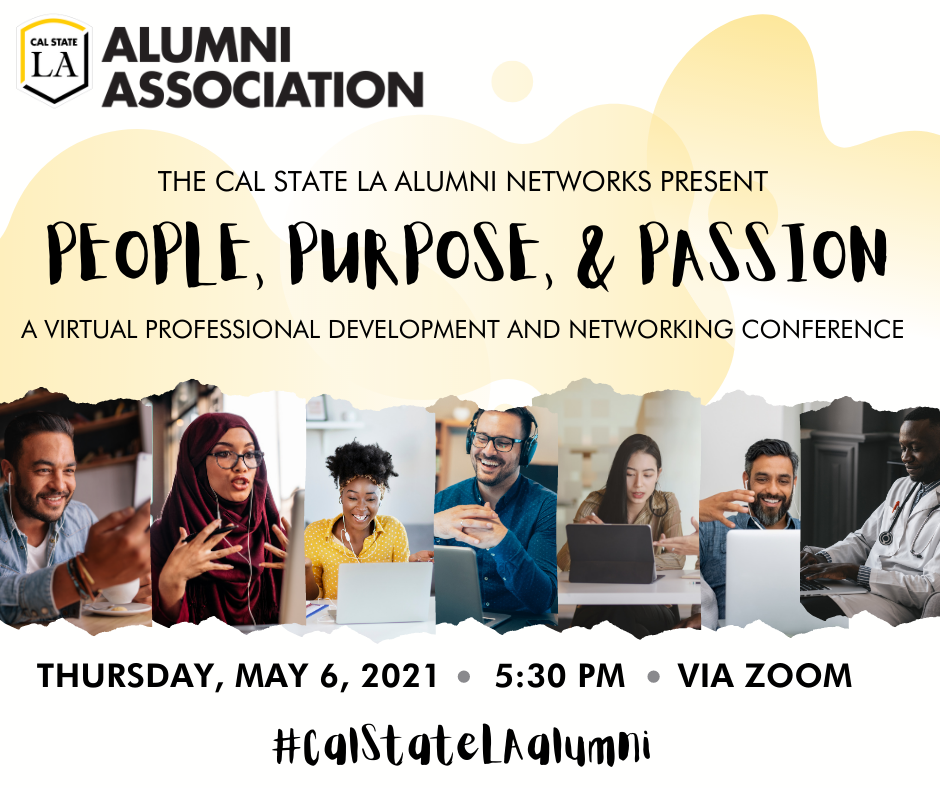 Event Details
People, Purpose, & Passion:
A Professional Development and Networking Conference
Presented by the Cal State LA Alumni Networks

Thursday, May 6, 2021
5:30 p.m. - 7:00 p.m. (PT)
Via Zoom Meeting
The Cal State LA Alumni Networks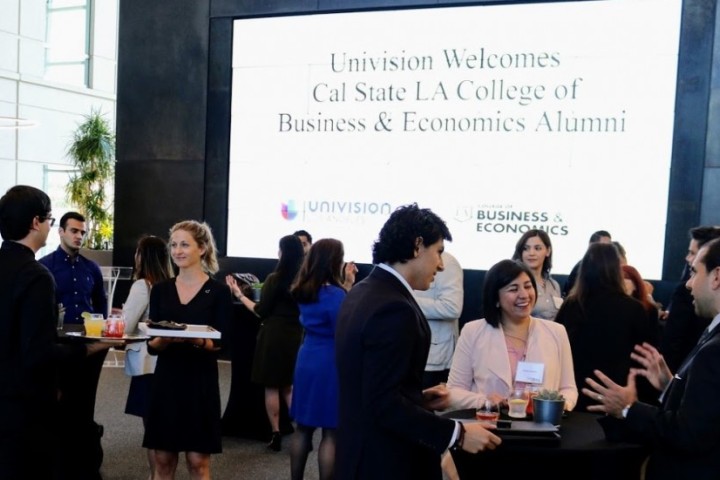 About us
The Alumni Networks are affinity-based groups under the auspices of the California State University, Los Angeles (Cal State LA) Alumni Association. We serve alumni and students by building platforms to connect, by advancing the interests of the Cal State LA community, and by providing an array of educational, career-oriented, social, and civic programs for alumni members.
Program Details
We invite alumni and current students to a conference-style professional development and networking event. Join us to make new connections and gain valuable insight from different industry leaders, experts, doctors, and CEOs on topics that focus on what unites us as alumni: people, purpose, and passion.

 - Welcome and Overview -

Edgar Garcia-Mora ('09)
Alumni Networks Representative, Alumni Association
Associate Vice President, Bolton & Company

Dr. Janet S. Dial
Vice President for University Advancement, Cal State LA

- Keynote Remarks -

Capri Maddox ('91, '95)
Executive Director, LA Civil + Human Rights Equity Department
City of Los Angeles

- Alumni Network Breakout Sessions -
Each network is hosting a breakout room featuring guest speakers, conversations, and/or activities specific to their group. Attendees will be invited to rooms based on the selection submitted at registration.

Not sure where to start?
Explore what each network has to offer by clicking their drop-downs below.

- Closing Remarks -
Opportunity drawing winners will be announced during this time.
DON'T MISS OUT! REGISTER TODAY!

This event is free for attendees. Registration is required. Click on the button below to submit your RSVP. The deadline to complete registration is by 5:00 p.m. (PT) on Monday, May 3, 2021.  For questions, please contact Christina Garrison at [email protected].

We look forward to seeing you then!