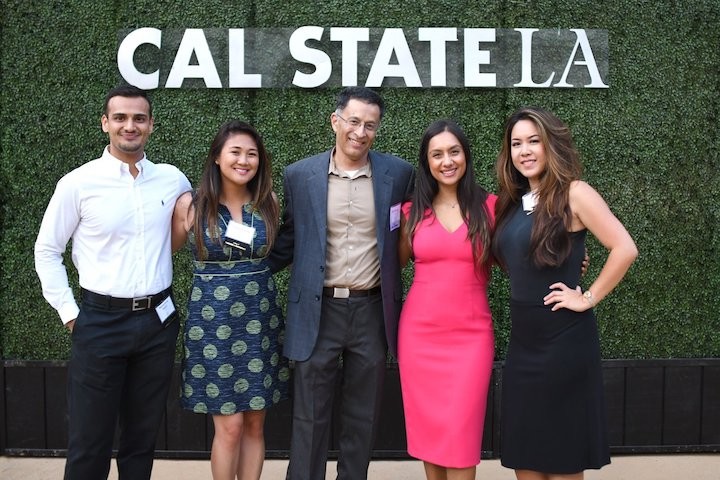 Activate or Update Your Membership
Become a lifetime member of the Alumni Association today! Membership is free of charge and provides you with access to unique privileges, resources and invitations to exclusive events.
Membership Benefits
Members of the Alumni Association can enjoy the following benefits:
Access to alumni affinity network communities.
Invitation to join the Cal State LA Federal Credit Union.
Golden Eagles, find "top dog" coverage or plans that are the "cat's meow". Nationwide Pet Insurance offers nose-to-tail coverage to care for dogs, cats, birds and exotic pets with a special discount for Cal State LA alumni. 
You have the advantage of exclusive alumni-only discounts and/or benefits through the Cal State LA Alumni Insurance Benefits Program, administered by AMBA. To learn more and enroll, visit our website or call 1 (888) 560- ALUM (2586). AMBA is committed to "Serving You throughout Your Life."
Frequently Asked Questions
Individuals who have earned a degree or credential from Cal State LA or have matriculated at the University are eligible for Alumni Association membership.
After you submit your completed Alumni Association Membership Application, you will receive a receipt email to the address you provided on the form. We will then verify your alumni status and update information on your profile. Once processed, we will email your membership packet. Due to COVID-19, we are operating remotely during this time. If you would like to receive your alumni membership card, please give us a call at (323) 343-2586 and leave a voicemail or email us at [email protected].
Once your application is completed and verified, you are considered a Lifetime member. No renewal is necessary, and we hope you take advantage of all of the benefits the Association has to offer.
If you need verification of your alumni membership to redeem a benefit, please email us at [email protected]. An electronic confirmation will be provided within 7-10 business days.
Alumni can access student email and GET for up to 365 days (12 months) after graduation. Accounts will be disabled thereafter and removed 395 days after graduation (about 13 months). If you are a recent graduate or about to graduate, we strongly encourage you to save any important documents before the deadline. Please contact the ITS Helpdesk for additional questions at [email protected].
At this time, we are not offering University-issued accounts for alumni.
 
We are excited to have you back! Alumni Association members are eligible to reserve two free parking permits a semester. If you are requesting a permit, please complete our request form by clicking the button below. All requests must be completed at least 24 hours in advance.

Request Parking
We embrace our community of alumni business owners and entrepreneurs. Please contact us at (323) 343-2586 or [email protected] to connect and explore together.
All requests pertaining to academic records (official transcripts, unofficial transcripts, duplicate diploma, etc.) can be addressed with the Office of the Registrar. If you are looking to continue your education and need a copy of your transcripts, requesting a copy of your diploma, or need to change the name on your records, please visit the Registrar's website.
We value your confidence. If you have any questions about the privacy, or the use of your information, we are happy to assist you. Please call the Office of Alumni Relations at (323) 343-2586 or email [email protected]. To opt-out of being contacted by our affinity partners (companies that we partner with to offer products or services to our alumni), please update your membership and opt-out.