Join us for the
Friday, November 3, 2023
5 p.m. | Cocktail Attire
Golden Eagle Ballroom, Cal State LA
5151 State University Dr, Los Angeles, CA 90032
Event Sponsorship Welcome!
Contact: Katie McGorman, Major Gift Officer 
(323) 343-3076 or [email protected]
Purchase Tickets/Sponsorships
The full amount of your dinner ticket or sponsorship payment is not fully tax deductible. The value of your tax-deductible donation is equal to the total donation payment minus the value of goods and services you received. The amount of goods and services that you will be receiving for your dinner ticket or sponsorship will be provided to you on a tax receipt letter mailed to you after we process your payment. If you have any further questions please contact the College of Education.
Make a Donation
If you are unable to attend our event but would like to make a donation to the Friends of the College of Education Scholarship and Faculty Staff Professional Development Fund, please fill out the secure donation form below.
2023 Distinguished Honorees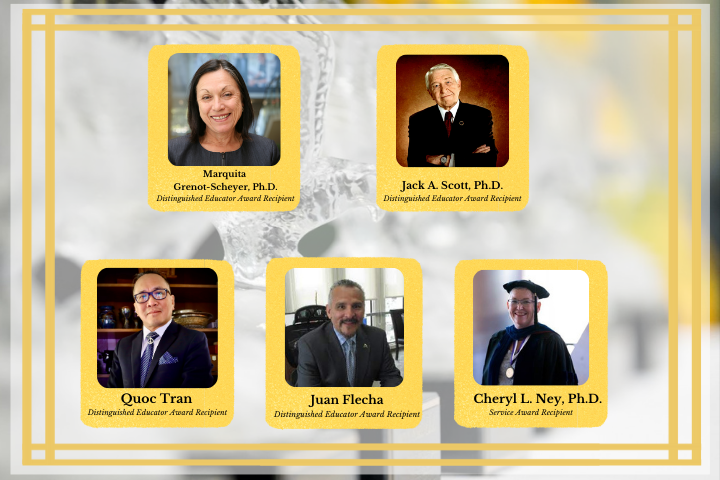 Dr. Marquita Grenot-Scheyer is Professor Emeritus in the College of Education at California State University, Long Beach. Dr. Grenot-Scheyer serves as Chair of the California Commission on Teacher Credentialing and is chair-elect of the board of directors for the American Association of Colleges for Teacher Education (AACTE). She previously served as Assistant Vice Chancellor, Educator Preparation and Public School Programs, for the California State University (CSU), Office of the Chancellor from 2016 to 2021. In this role, she was responsible for leading, coordinating, and facilitating system-wide efforts to recruit, prepare, and retain teachers, counselors, and school leaders for schools and communities. Prior to this appointment, she served as Dean of the College of Education at California State University, Long Beach from 2008 to 2016. She has served as a member of the WestEd board and was a member of the American Association of State Colleges and Universities (AASCU) Teacher Education Task Force (2016) on Teacher Preparation, which produced the report, Preparing teachers in today's challenging context. She previously served two terms as a board member of the Council for the Accreditation of Educator Preparation (CAEP), (2013-17) and served as a commissioner, on the Commission on Standards and Performance Reporting for CAEP, (2012 to 2013).
She earned her Ph.D. in Special Education in 1990 from the joint doctoral program at the University of California, Los Angeles and California State University, Los Angeles. In recognition of her career accomplishments, she was selected as the Distinguished Alumnus, CSULA Charter College of Education, in 2008.
Dr. Jack Scott has had an extensive career in education and public service. He is especially known for his deep commitment to advocating for educational policies that better service students and the state of California. This includes work in the California State Assembly and as a Senator. His commitment to promoting educational policy included serving as Chair of the Senate Committee on Education from 2000-2008, and he has authored 146 bills that were signed into law.
At the end of his time in the Senate, Dr. Scott served as the 14th Chancellor of the California Community Colleges from 2009-2012. Prior to this, Dr. Scott worked at Pepperdine University, Orange Coast College, and as President of Cypress College (1978-1987), and President of Pasadena City College (1987-1995). He also served as a guest lecturer in Ed.D. courses at Cal State LA. 
In his retirement, Dr. Scott was selected as Scholar in Residence at Claremont Graduate University. He received a Ph.D. in American History from Claremont Graduate University. 
Juan Flecha recently retired as President of Associated Administrators of Los Angeles (AALA). Prior to that, Flecha served as principal for Eagle Rock High School and Thomas Jefferson High School before he took over as Administrator of Operations in Educational Service Center North, which covered 200 schools K-12 from Verdugo Hills to Woodland Hills.
Flecha earned a master's in educational administration and a teaching credential from the College of Education at California State University, Los Angeles.   
Quoc Tran has a distinguished career of service in the field of education. He earned a bachelor's degree in engineering and a master's in educational leadership from California State University, Los Angeles. Prior to his career in administrative and educational leadership, he served as a teacher in elementary and high school settings in Los Angeles. Tran is bilingual and biliterate, and his work includes bilingual (Vietnamese) mathematics and science teaching. He has served in important leadership positions, including most recently as the Culver City Unified School District Superintendent. Tran grew up in the Vietnam War and came to the United States at the age of 17, after spending years in a refugee camp in Malaysia. He is deeply committed to promoting diversity, equity and inclusion throughout this work.
Dr.Cheryl Ney has a B.S. in Chemistry (Arizona State University), M.S. in Chemistry (Baylor University), and Ph.D. in Biochemistry (University of Chicago). She began working at California State University, Los Angeles in 2009 and served in various high-level leadership positions on campus. Starting in 2015, Dr. Ney began serving in the role of Dean of the College of Education. She retired from this role, and her career in leadership and higher education in 2022.
Dr. Ney is passionate about various areas of practice in higher education and has advocated for the supported work of linked learning, better aligning our programs with career pathways in the community, infusing technological advancements in education, and more. Among other things, she is remembered by her colleagues at Cal State LA for her love of humanoid robots to promote social-emotional learning in an educational setting. Prior to her work at the CSU, Dr. Ney served as a professor and administrator at Capital University.
Frequently Asked Questions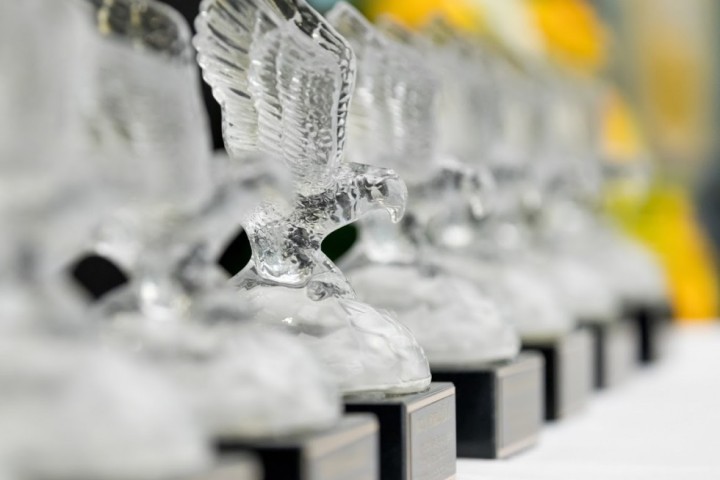 The Annual Distinguished Educators Award Dinner (DeD) honors distinguished educators who demonstrate excellence, a high level of commitment, and who have made significant contributions in the community. The evening provides an opportunity to introduce others to the work of the COE and to raise funds for student scholarships, staff, and faculty professional development.
 
The COE is committed to the preparation of exceptional and caring educators, dedicated to inclusivity, student success, and the value of all individuals in our communities. As a result, COE graduates are frequently considered the best teachers, school psychologists, counselors, administrators, and leaders within their schools and communities.
We hope you enjoy this celebration of distinguished educators whose career contributions have made a lasting change and are a reflection of the historic mission of the COE.
Previous Distinguished Educator Award & Community Service Award Award Recipients
1990 through 2019
William Anton – 1990
Joseph Linscomb – 1991
Anita Suazo – 1992
Sidney A. Thompson – 1992
Stuart Gothold – 1993
Theodore Alexander, Jr. – 1993
Evangelina Stockwell – 1994
John Nagata – 1994
Robert Aguilar – 1994
Alice Petrossian – 1995
Ruben Zacarias – 1995
James Figueroa – 1996
Walfred Fassler – 1996
Dan Isaacs – 1997
Lupe Reyes – 1997
David Koch – 1998
Donald Ingwerson – 1998
Carl Cohn – 1999
Ronald Prescott – 1999
Carmella S. Franco – 2000
Lowell Milken – 2000
Maria A. Casillas – 2000
Donnalyn Jaque-Anton – 2001
Richard A. Alonzo – 2001
Maria G. Ott – 2002
Merle Price – 2002
Lilliam Leis-Castillo – 2003
Robert J. Collins – 2003
Dale Vigil – 2004
Rowena Lagrosa – 2004
Darline Robles– 2005
John Liechty – 2005
Julie Hadden – 2005
Grace Strauther – 2006
Kenneth L. Moffett – 2006
Rosemary McNutt - 2006
Renee E. Jackson – 2006
Judy Burton – 2007
Yvonne Chan – 2007
Wayne Langham - 2007
David Tokofsky – 2007
Judith Washburn – 2007
Louise K. Taylor – 2008
Lynn Andrews – 2008
Sandra Thorstenson – 2008
Antonio J. Camacho – 2009
Edwin Diaz – 2009
Lawrence Moore – 2010
Linda Del Cueto – 2010
Michelle King – 2010
Susan Parks – 2010
Cynthia Cervantes McGuire –2011
Genevieve Shepherd – 2011
Vivian Ekchian – 2011
Teresa Hughes - 2012
George Simpson – 2012
Irene Herrera-Stewart – 2012
Michelle Windmueller – 2012
Angel Barrett – 2013
Mary Falvey - 2013
Laura Tellez-Gagliano – 2013
Susan Wang – 2013
Diane Fazzi – 2014
Ei Akiko Fong - 2014
Ken Fong - 2014
Susan Kumar - 2014
Susanna Contreras Smith – 2014
Ron Carruth – 2015
Latosha Guy – 2015
Janet Fisher-Hoult - 2015
Lovelyn Marquez-Prueher – 2015
Kandice McLurkin – 2015
Sandy Suguira – 2015
Fidel Vargas – 2015
Linda Wah - 2015
Caprice Young – 2015
Shawna Draxton – 2016
Joseph Martinez – 2016
Brian McDonald – 2016
Veronica Vega – 2016
Frances Siu – 2016
Ida Chapko CSLA-FCU - 2016
Joan S. Bissell - 2017
Keith Curry - 2017
Debra Duardo - 2017
Martin Epstein - 2017
Priscilla Lizárraga - 2017
Isa-Kae Meksin - 2017
William Taylor - 2017
Joyce Wang – 2017
Anita Chu - 2018
Donna Cleman - 2018
Michelle Freridge/ Asian Youth Center - 2018
Monte E. Perez - 2018
Shirley Starke-Wallace - 2018
Linda Trevillain - 2018
Kenneth Turner - 2018 Sal Castro - 2019
Hattie Mitchell - 2019
Edward James Olmos - 2019
About the College of Education (COE) at Cal State LA
The College of Education (COE) is committed to the preparation of exceptional and caring educators – counselors, teachers, and educational leaders - committed to inclusivity, student success, and the value of all individuals in our communities. California State University Los Angeles, is currently the top-ranked University in the nation based on upward mobility.  The COE is a dynamic force for the mobility of its graduates, with its outstanding record of preparing educators and educational leaders who serve the Los Angeles region!
About the Friends of the COE
The Annual Distinguished Educators Award Dinner is hosted by the Friends of the College of Education. The Friends were founded in 1978 to support the College of Education (previously known as the Charter College of Education) at Cal State LA. As one of the oldest support groups at the university, the Friends co-sponsor events that strive to enhance education and the art of being an educator or educational leader!
 
From academic workshops and professional development for faculty to annual new teacher recognition and student recruitment activities, to one of Los Angeles County's most highly regarded professional achievement awards events - the Distinguished Educators Award Dinner - the Friends help to create and sustain the unique strengths of the College of Education.