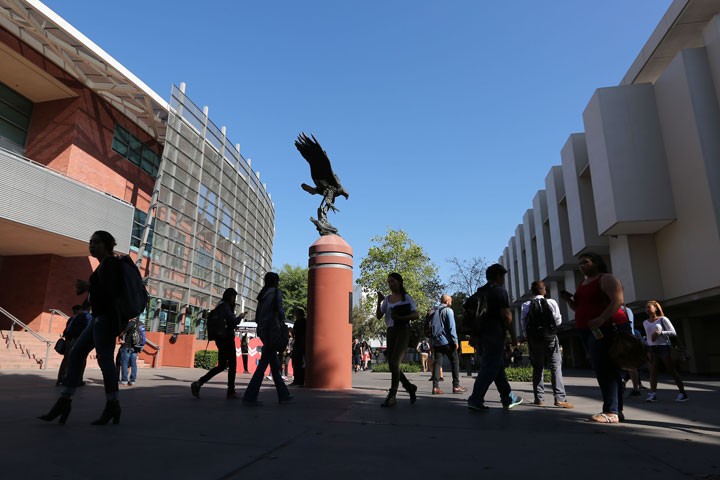 Upcoming Application Deadlines
Spring 2024:
August 1st, 2023– September 30th, 2023
Fall 2024:
October 1st, 2023 – February 15th, 2024 (International Students)
October 1st, 2023 – May 31st, 2024 (Domestic Students)
Application Requirements
Application to Graduate Program
All applicants must complete an online application to the University through Cal State Apply. The College examines each candidate's potential, taking into consideration all academic and work experience, level of responsibility at work, and other factors that may have a bearing on the individual's potential for success. Applicants are evaluated on the merits of their own application in comparison with those of all other applicants for the semester. Applicants without proper documentation, i.e., test scores, employment history, essays, letters of recommendation etc., will not be processed. Recommendation for admission will only be based upon files that are complete.
Students who are admitted but do not register in the semester for which they applied must reapply through Cal State Apply and pay another application fee if seeking admission to any future semester. There is no deferred admission. Reapplication to the College is not necessary if readmission is sought within one academic year. We encourage you to complete your application file as soon as possible. Once your file is complete, we can proceed with the evaluation and issue a decision.
For application guides click on the following:
Spring 2024 Application Requirements
Cal State Application Instructions
Admission Requirements:
Bachelor's degree
GMAT / GRE test scores  *[MS Information Systems applicants only]
Resume
2 Letter of Recommendations
Statement of Purpose
One set of Official sealed Transcripts sent to the Cal State LA Office (Cal State LA students and alumni do not need to request/submit their transcripts)
* The department will consider waiving the GMAT/GRE for students who have a degree in IT, CS and IS.
The admission process from application to faculty review can take anywhere from 8-12 weeks. Completed applications begin the review process as soon as they are received. We recommend you to submit your application as early as possible.
Transcripts may be sent by mail to:
California State University Los Angeles
Office of Admissions and Recruitment (SA 101)
5151 State University Dr.
Los Angeles CA 90032 USA
* MS Information Systems is considered as STEM program.  STEM (Science, Technology, Engineering, and Mathematics) degrees are in high demand worldwide. For international students, obtaining a STEM degree at our University qualifies students who have F-1 visas to potentially have their 12-month OPT extended by 24 months. For all STEM graduates, a promising career awaits with this valuable degree.
Veterans
The Cal State LA Veterans Resource Center (VRC) strives to help veterans and active duty students navigate the certification process, make a seamless transition to university life, support their success on campus, and prepare them to reach their career and life goals. For more information, visit the Veterans Resource Center webpage, or contact the VRC at (323) 343-5080, or via email at [email protected].
International Students
If you are applying from outside of the United States, your application will vary slightly from that of a domestic applicant.
For those applicants who earned a bachelor's degree from a school where English was not the principal language of instruction, a Test of English as a Foreign Language (TOEFL) score of at least 80 (Internet-based test), 213 (computer version) or 550 (paper version) is required for admittance into the CBE graduate programs. Click here for more information on the TOEFL examination.
Financial information must also be provided through the i-20 affidavit. Please refer to the Graduate Admissions for more information.
Lastly, If you have studied at an institution outside of the US, you will need to have your foreign academic work evaluated by International Education Research Foundation (IERF)  or by World Education Services for an initial evaluation to expedite the admissions process. Please see below for instructions on submitting your transcripts through IERF. Note: International students do not need to also mail their transcripts to the University.
Submitting Your International Transcripts via IERF:
Visit https://apply.ierf.org/ to create an online application requesting the "Detailed Report". Note: The foreign evaluation fee is $165 (USD).
When submitting your course work to IERF indicate that you were referred by CSU Los Angeles - Office of Admissions and Recruitment and that you would like to have the official agency copy of the evaluation report sent directly to CSU Los Angeles- Office of Admissions and Recruitment(SA101).
Once the application is submitted, you will need to submit your academic records to IERF for evaluation.
International Education Research Foundation, Inc.
P.O. Box 3665
Culver City, CA 90231
www.ierf.org
310-258-9451
Submitting Your International Transcripts via WES:
Submit the online university admissions application.
Visit https://wes.org/ to create an online application requesting the " COURSE-BY-COURSE Report".
Indicate that you were referred by CSU Los Angeles-Graduate Admissions and that you would like to have the evaluation report sent directly to "CSU Los Angeles-Graduate Admissions".
The evaluation fee is $160 (USD) - please remit directly to WES.
Once the online WES application is submitted, send your official academic records (and if not in English, with ATA certified mirrored English translation report) to:
World Education Services
Attention: Documentation Center
P. O. Box 5087
Bowling Green Station
New York, NY 10274-5087
USA
Application FAQs
The University Admission Application Fee is $70 USD (non-refundable/non-transferable). Please plan to submit the application fee payment at time of online application submission. If you do not pay the fee at time of application submission, please make payment (personal check, money order, or cashier's check) payable to Cal State LA, include your name and CIN on the payment, and mail to Cal State LA by the application term's application fee payment deadline. No other forms of payment are accepted, and we are unable to accept online payments after the application is submitted.
If there are no items listed in your GET (Golden Eagle Territory) To-Do list and you have not yet received an official email notice regarding your admission decision, the admission status may show INCOMPLETE because it is still pending a University admission decision. Please regularly check your email and GET To Do list to ensure that you do not miss any important deadlines.
Your Cal State LA CIN (Campus Identification Number) is noted on the top of emails sent to you from the Admissions Office. Please have your CIN readily available whenever you contact the University for assistance and include it on email inquiries. This will help us locate your student record.
PINs are emailed to each applicant within 5-7 business days of application acknowledgment. If you do not receive it within this time, please check your email JUNK mailbox before contacting the Cal State LA Registrar's Office. To request your PIN to be re-sent to you, please call the GET Helpline at (323) 343-7438.
We do not offer pre-admission advisement for students with international records. To be considered for admission, you must apply to our university, and submit academic records as requested.
(NOTE: Foreign Credential Evaluation Report - International applicants (those requiring an F/J visa to study in the US) to a graduate/postbaccalaureate program with non-US academic records/transcripts are required to submit their international documents to IERF or WES (effective Spring 2018) for evaluation. If you have studied at an institution outside of the US, please submit your official foreign academic records with ATA certified English translations(s) to the International Education Research Foundation (IERF) or World Education Services (WES) for initial evaluation to expedite the admissions process. Reports must be sent directly from the agency to the Cal State LA Admissions Office)
Once the University receives copies of all requested academic documents, please allow 6-8 weeks for evaluation and processing. Once a decision is made, you will be notified via email. Please also regularly check your GET Self Service Student Center To-Do-list, and submit additional information as requested in a timely manner. Missing documents will delay the admission process.
Transcripts must be official and sealed, and must include verification of the bachelor's degree. Unofficial or transcripts with a broken seal will not be accepted under any conditions. Include any transcripts with higher division course grades from multiple universities. Please mail to Graduate Admissions Office.
Campus Location: Student Affairs 101
Mailing Address:
Office of Admissions and Recruitment (SA 101)
5151 State University Dr.
Los Angeles, CA 90032
Telephone: (323) 343–3901
As a general guideline, a three-year degree from a recognized University in India or Pakistan is not considered equivalent to a U.S. baccalaureate. Graduates from these institutions may be admitted in undergraduate standing if coursework is determined to be acceptable and meets undergraduate admission requirements. Completion of a three-year degree and a Post-Graduate Diploma from a recognized institution may possibly be considered for graduate admission. However, the department can request admission by special action for students with 3-year degrees, if they find that the candidate has other strong qualifications (i.e. have significant work experience, high GMAT/GRE, great letters of recommendation). Also, if you are an international student with an F/J visa, IERF will determine the degree equivalency; some foreign 3-year bachelor's degrees are found equivalent to a U.S. bachelor's.
If you are an undergraduate applicant, yes, the completion of a transferable college-level English Composition course from a United States post-secondary institution, with a grade of 'C' or better, will exempt you from these exams.
If you are a graduate/post-baccalaureate applicant with a bachelor's degree from a college or university where the language of instruction is not English, you must take an English Language Proficiency Exam (TOEFL, IELTS, PTE, DuoLingo). Three years of education in an English speaking institution, or the completion of a transferable English Composition course, will not exempt you from this requirement.
Applicants holding or applying for an F-1 or J-1 visa must complete and submit the New Student I-20 Verification with signatures and appropriate documentation to show proof of funding. If you are interested in attending Cal State LA, please do not wait for your admission decision before submitting these documents. The advance submission of the verification form, and financial documentation, will help expedite the issuance of the I-20; if your I-20 paperwork is complete, the International Office can issue the I-20 immediately after your admission to the University.
If you have any questions regarding I-20 or SEVIS transfer, please contact the International Office at (323) 343-3170, [email protected], or visit the International Office webpage.
If you don't have a business undergraduate degree or background in business, this will not hinder you to get into our program. Non-business students are required to complete a foundation course, BUS5000 Foundations of Business Administration (9 units) prior to taking core MBA courses, with a grade of "B" or better BUS 5000. Please note that BUS5000 can be taken before or after the application is admitted to the program.
To be considered for GMAT waivers, the application must have at least 5 years of significant work experience in a managerial or professional role.
The college does not provide a preliminary GMAT/GRE request evaluation. Your GMAT/GRE waiver request form must be submitted along with supporting documents to the college for review.
The purpose of the Test of English as a Foreign Language (TOEFL) or (IELTS) International English Language Testing System is to evaluate the English proficiency of applicants whose native language is not English. The test uses a multiple-choice format to measure the ability to understand North American English. The test consists of three parts: Listening Comprehension, Structure and Written Expression, Reading Comprehension. For more information please visit www.toefl.org or www.ielts.org
A GMAT score of 500 or higher/ GRE 300 or higher must be included for the application to be reviewed. The GMAT measures basic verbal, quantitative, and analytical writing skills that you have developed over a long period of time in your education and work. The GMAT consists of three main parts, the Analytical Writing Assessment, the Quantitative section, and the Verbal section. The GRE has a similar test form. For more information about the GMAT and GRE, please visit www.gmat.com and www.gre.org.
(NOTE: Your GRE/GMAT score report must be submitted along with the College Program Application).