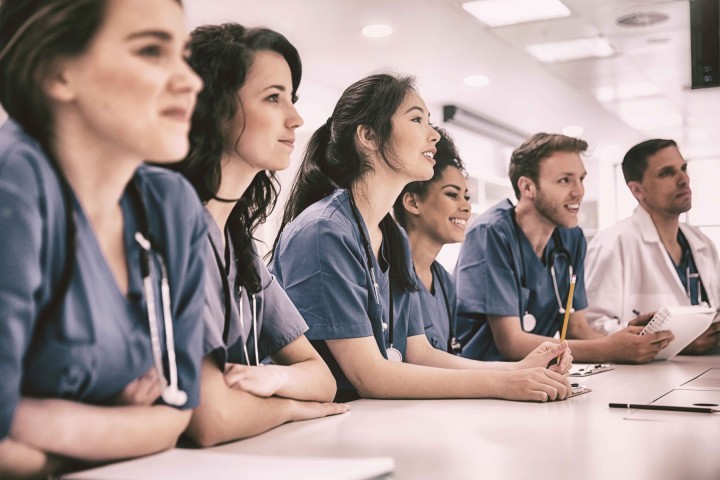 The Master of Science degree in Healthcare Management (MS HCM) at Cal State LA has been a local staple since 1975 and is one of the longest-running programs of its kind positioned in an accredited business school. Our comprehensive curriculum succeeds by explaining the practical implications of complex issues in healthcare.
Program Features
Leadership & management based program
Interdisciplinary program
Frequent executive guest lectures from healthcare industry players
Our students have involvement in the American College of Healthcare Executives (ACHE) and other professional networks
Program Requirements
All students applying to the MS Healthcare Management program must have the following:
Bachelor's degree - all majors accepted
A grade point average of at least 2.5 (A=4.0) or in the last 60 semester (90 quarter) units attempted
Minimum of 6 months of work experience in healthcare
Professional résumé
Statement of purpose
Unofficial transcripts
Two letters of Recommendation
 
For a detailed list of requirements for admission into our graduate programs, including requirements for international students, please visit our requirements page here.
Roadmap
Curriculum
A total of 36 units is required, with at least 30 units in 5000-level courses. Students must fulfill all University requirements for graduation.
Core Courses (18 units)
Management processes, functions, and concepts as applied in healthcare organizations; issues in organizing, leading, and changing healthcare services with emphasis on best practices.
Concepts, methods, tools, and advanced reasoning techniques for using the best available information to make decisions across the functions of healthcare management.
A critical examination of history and current trends in organizing healthcare systems across differences (e.g., time, culture, income, geography, governmental support, organization design). Managerial implications are drawn from the in-depth comparative analysis of the U.S. healthcare system.
Regulation of healthcare facilities, professionals, consumers, and systems; ethical and socially responsible behavior and corporate compliance programs in healthcare organizations; management competencies required to meet the demands of healthcare reform.
Prerequisites: MGMT 5310 and MGMT 5300. Financial management in healthcare, with emphasis on operational performance, current issues, and tools needed to manage a healthcare organization (e.g., budgeting; financial statement analysis; managerial decision-making).
Methods and policies in organizational management and corporate governance of healthcare information, including collaboration on business requirements, project management, privacy culture, and managerial accountabilities for healthcare records and decisions.
Strategic planning for healthcare change and innovation. Internal and external strategies for improvement in healthcare organizations and surrounding communities. Policy, patient advocacy, and compassionate care are discussed among other considerations.
Electives (12 units)
Students must select 12 units of recommended electives below or other 4000- or 5000-level courses with the advisor's prior approval.
For more information, please visit the University Catalog.