LEADING FOR EQUITY IN ENTREPRENEURSHIP ACCELERATOR AND FELLOWSHIP (LEEAF)
Cal State LA is excited to announce an amazing new program for students who want to learn more about entrepreneurship and help communities build for COVID-19.
ABOUT LEEAF AND WHY YOU SHOULD JOIN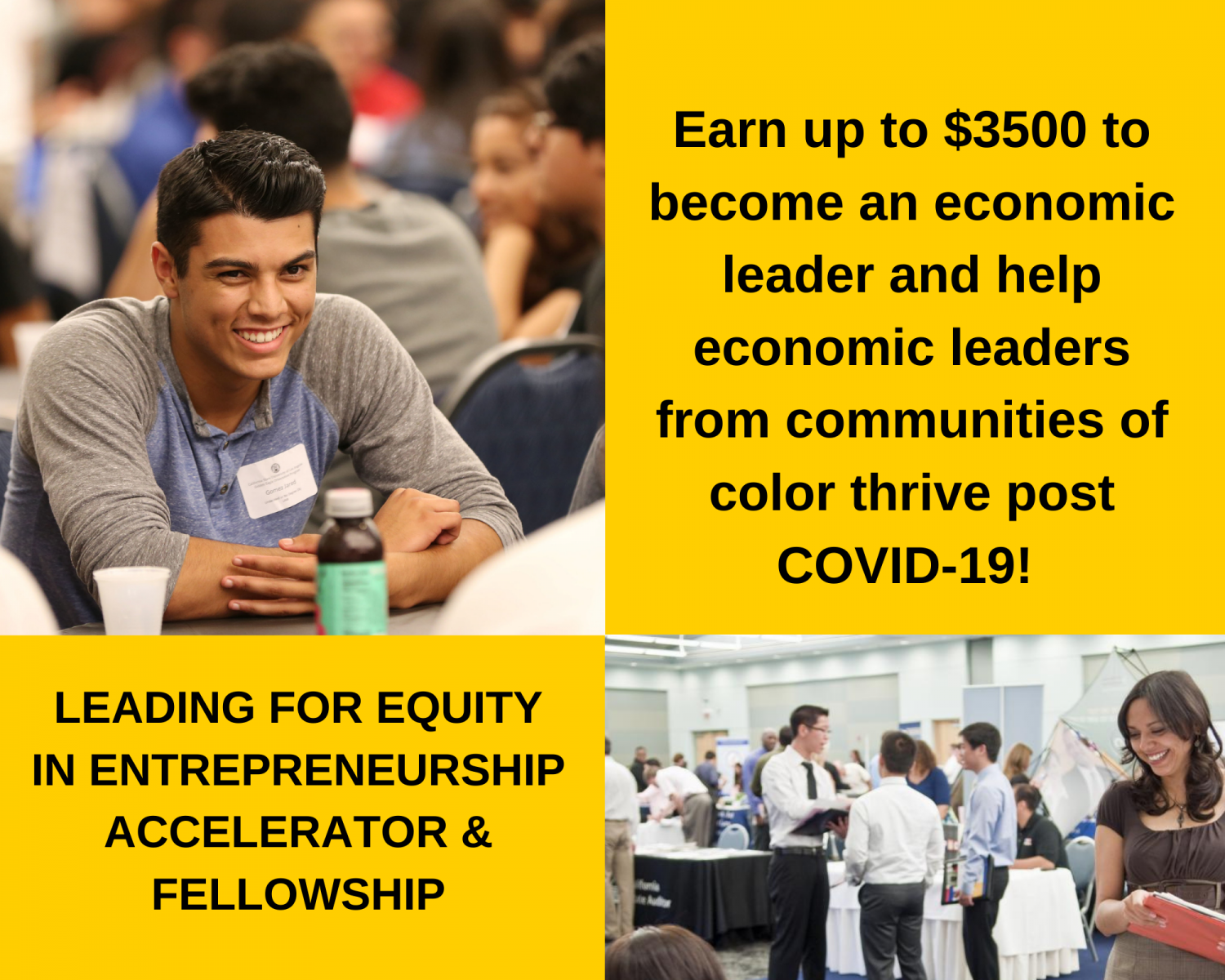 COVID-19 has had devastating impacts on small business owners, especially women entrepreneurs from the many communities of color. Cal State LA, along with strong community partners, are seeking to help such entrepreneurs recover and grow.
The LEEAF program offers Cal State LA students a unique paid opportunity to develop their own entrepreneurial skills and plans, while helping existing women business owners thrive - all leading to a more diverse, equitable, and just economic landscape.
Through intensive training and working alongside current entrepreneurs, students will position themselves and communities to innovate and thrive in a post-pandemic world.
BASICS ABOUT THE FELLOWSHIP
Foundations
Gain marketable, career-ready skills to practically address community needs and building institutions.
Prepare yourself to support entrepreneurs by learning about core functions such as marketing, financing, operations, product design, risk management, strategic planning, pitching, and more - all while earning a stipend!
Real-time Experience
Embed with a local business leader as an intern, putting your skills into action in real-world economic leadership.
Intern with a local woman of color business leader to apply what you've learned to help that business adjust and grow, as well as help the surrounding community recover - again, all while earning a stipend!
Keep the Growth Going
Build connections to banks, investors, and other community leaders as you help you and your embedded business grow.
Continue helping your economic leader with their growth, while focusing on developing and pitching your own entrepreneurial idea that can further improve communities and position you for more personal and professional success - while continuing to get a stipend!
Ready to start? Complete the pre-application by May 14, 2021. This opportunity is open to Cal State LA students who will be juniors or seniors starting Fall 2021 or in a graduate program. It takes two minutes and gives you priority access to the full application when it launches in the early summer. Save your chance at this opportunity by filling it out!
Any questions? Contact Dr. Marla Parker at [email protected] or Dr. Dmitri Seals at [email protected], or [email protected]