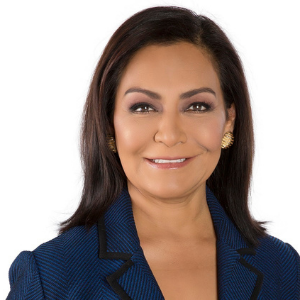 Cal State LA alumnus, Alma Rosa Nieto, credits the various university resource centers for helping her adjust to a new life and culture in the United States as a student in the late 1970s. Nieto returned to the United States, her country of birth, from Mexico to attend college and enrolled at Cal State LA at the suggestion of a friend. While touring the campus grounds, she was impressed by its grandeur and affordability, ultimately informing her decision.
Though she was back in her country of birth, she experienced a culture shock as a newly enrolled student. She sought out counseling at the University's health resource center, where she found it helpful to talk to the counselors about the issues she encountered and receive advice on adjusting to a new culture.
After graduating with bachelor's degrees in sociology and political science (pre-law) in 1979, Nieto received a J.D. from UC Hastings College of the Law in San Francisco. She returned to Mexico City, where she worked for a global law firm but returned to the United States to continue her career as an immigration attorney, a long-held passion of hers.
"I was fascinated with helping people navigate the immigration system – especially for people who were in dire desperation fleeing wars, persecution, and hunger. Through this field, I could also work with people I related to in culture and language."
In the last few years, Nieto re-engaged with Cal State LA as a frequent guest speaker at the Pre-Law Society, a student club, where she served as the club's first president.
"I see myself in the students. They are so anxious to know more, and I see the same desire and drive I had as a student."
Nieto also understands the importance of representation and role models and aims to be a source of inspiration to the students.
In addition, she serves on the College of Natural and Social Sciences (NSS) Dean's Board of Advisors, which aims to connect students with resources during and after graduation.
"Though it is a commitment to sit on the board, my beginnings are at Cal State LA, and I owe it to the school to give back to a place that gave me so much."
Nieto believes in revisiting the past to explore ways to impact the present and the future.
"I invite my fellow alums to remember how it felt to be a Cal State LA student and ask ourselves 'what was missing for me,' then, come back to share that information with by serving on an advisory board, speak to a student organization, or becoming a mentor through the alumni mentoring program. With 20/20 hindsight, alums have the potential to impact the lives of students and make it easier for those who follow in our footsteps."