Visit the Cal State LA Food Pantry to access fresh produce, perishable, and nonperishable foods. The pantry is a no-cost service to currently enrolled, degree-seeking Cal State LA students experiencing food insecurity.
How it works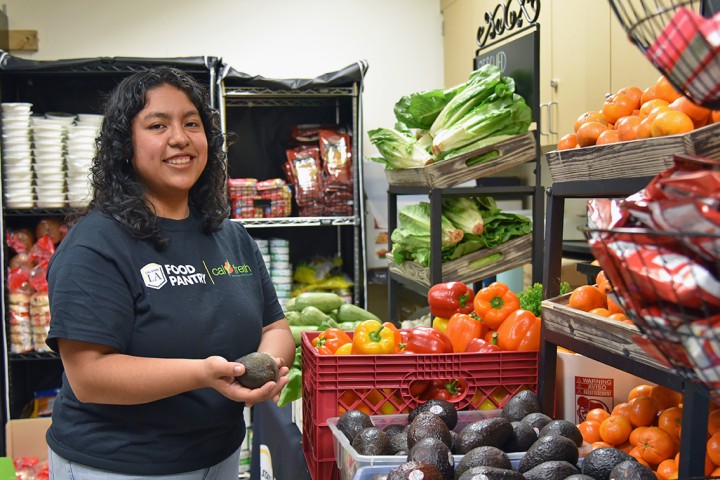 Reserve Your Spot
Students can access the pantry once a week by scheduling an appointment through Navigate LA, available by clicking the button below, through the GET Mobile app or the MyCalStateLA portal.
Fall Hours
Tuesday, Wednesday, & Thursday
10 a.m. – 2 p.m.
Questions or concerns? Please email [email protected]
Frequently Asked Questions
This is a free resource for currently enrolled (degree-seeking) Cal State LA students experiencing food insecurity. Students can access the pantry once a week, every week throughout the academic year. 
Please visit the LA Food Bank locator to find another food pantry near you.
Students are encouraged to make an appointment through Navigate LA which can be easily accessed through the GETmobile app or your MyCalStateLA portal. Students can make a reservation every week, up to 7 days in advance.
Drop-ins are welcome if our appointments for that day and hour have not been filled. You can email our team to ask before visiting the pantry (we are working on getting a phone line). 
Please try to make the day and hour that you scheduled your appointment so that we can determine whether we can allow folks to drop in. If you have issues with securing an appointment during a time that works for you each week, please communicate with us through email at food[email protected]. We will try our best to accommodate you! 
The pantry is located on the 3rd floor of the Student Union. Our hours of operation are Tuesday - Thursday from 10am - 2pm. Please see the Campus Map.
Yes, with a reservation. Please have the person provide your name, CIN, and a picture of your One Card. 
*A student can pick up for one other student at a time, no exceptions.* 
Please bring reusable bags and have your One Card or CIN ready.
Every week varies and this service is available while supplies last but expect to choose from grains, proteins, fruits, vegetables, and other food pantry items.
Students get to choose what they want to take via a Microsoft form. Please make sure to read the food labels of all items you consume and be cautious of major food allergens (i.e. milk, eggs, fish, shellfish, tree nuts, peanuts, wheat, and soybeans). 
Thank you for your interest in donating! We accept non-perishable foods and some produce. You may drop off the items at the pantry during our business hours or email the Coordinator of Food Security ([email protected]) to arrange a drop-off. We also accept monetary donations through this link. 
Meet the Food Pantry Team
Thank you Student Lunchbox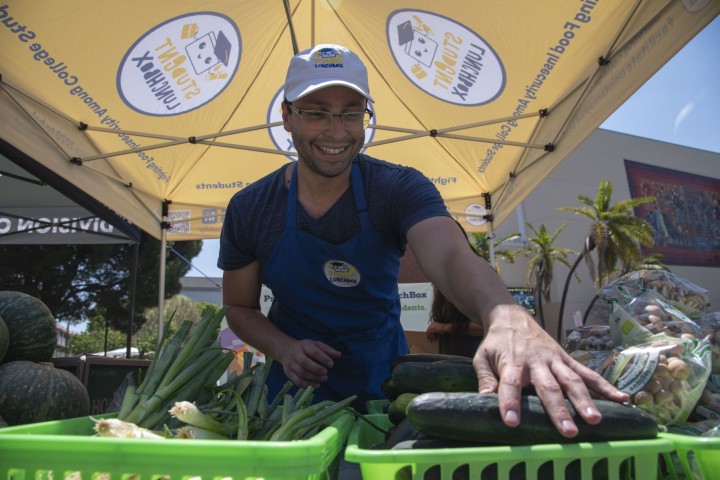 We are grateful for our partnership with Student LunchBox. This organization donates fresh fruits and vegetables rescued from local farmers markets.