The Educational Opportunity Program helps first-generation, undergraduate students from California overcome social and economic barriers to attaining a higher education.
Apply for Fall 2024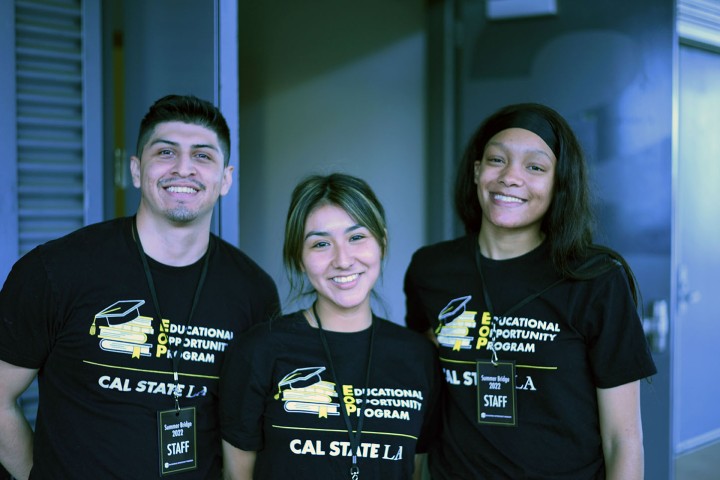 The Educational Opportunity Program (EOP) is accepting applications for Fall 2024. Join one of our Virtual Application Clinics in October and November for help applying. 
What We Do
We provide EOP-eligible students with admission, transitional and academic assistance. Our goal is to give students the support they need to thrive and earn their degree.
Summer Bridge – Transfer Bridge – EOP Transition Day
These programs are designed to prepare students for the University environment.
The goals are to give students a head start toward a successful college experience and the opportunity to begin building community with other students, staff and faculty.
One-on-one educational counseling and academic advisement that addresses the holistic development of students.
EOP students are required to meet with their assigned counselor each semester. The number of advising appointments varies depending on the students' academic and class standing.  
EOP Supplemental Instruction (SI) offers support in general education math courses. We use a nontraditional form of teaching and learning that focuses on collaboration, group study and interaction.
EOP students can earn one unit towards their graduation requirement by enrolling in the EDCI 1001 instructional workshop course.
New EOP students are provided education and support opportunities by EOP student leaders. These peer mentors, or 'friend'tors, will challenge students with new ideas and encourage them to move beyond the things that are most comfortable. 
A peer mentor supports incoming and continuing students to become established within the University community, offering advice and referrals to campus resources, key contacts and general information about student life.
EOP students who need a laptop for virutal instruction and classwork can borrow one from us. 
For more information about this service, please contact us by phone or email. 
Each student brings with them their lived experiences as first-generation college students and that alone has prepared them to lead.
EOP offers opportunities for students to share their voices by participating on student panels and by attending professional conferences.
These leadership events provide areas for students to accelerate in and develop confidence, all of which supports their academic success and life in general.