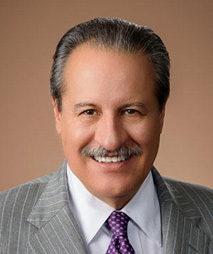 A big thank you to Cástulo de la Rocha, President and CEO of AltaMed Health Services for speaking to our Healthcare Management students as part of our Professor for a Day series. Mr. de la Rocha has received numerous accolades including being named one of the Top 10 Latinos in the health care industry by Latino Leaders Magazine and by Hispanic Business Magazine, and a Lifetime Achievement Award from the Los Angeles Business Journal.
Mr. De la Rocha joined AltaMed when it was a mere three person storefront clinic in East Los Angeles and led its transformation into the top Certified Enrollment Entity for Covered California, serving over 300,000 residents.  AltaMed's unique mission is to eliminate disparities in health care access and outcomes by providing superior quality health and human services through an integrated world-class delivery system for Latino, multi-ethnic and underserved communities in Southern California.
Graduate students packed Professor Mahdavian's Organizational Behavior and Management class to hear Mr. de la Rocha discuss the importance of values and mission in the workplace.  He advised students to seek an employer whose values align with their own and to have a passion for the community they serve. He stressed that believing in the mission is the key to success, both professionally and personally. Attendees responded to his message, peppering him with questions after his talk. We are honored that he could share his time and experience with our students.