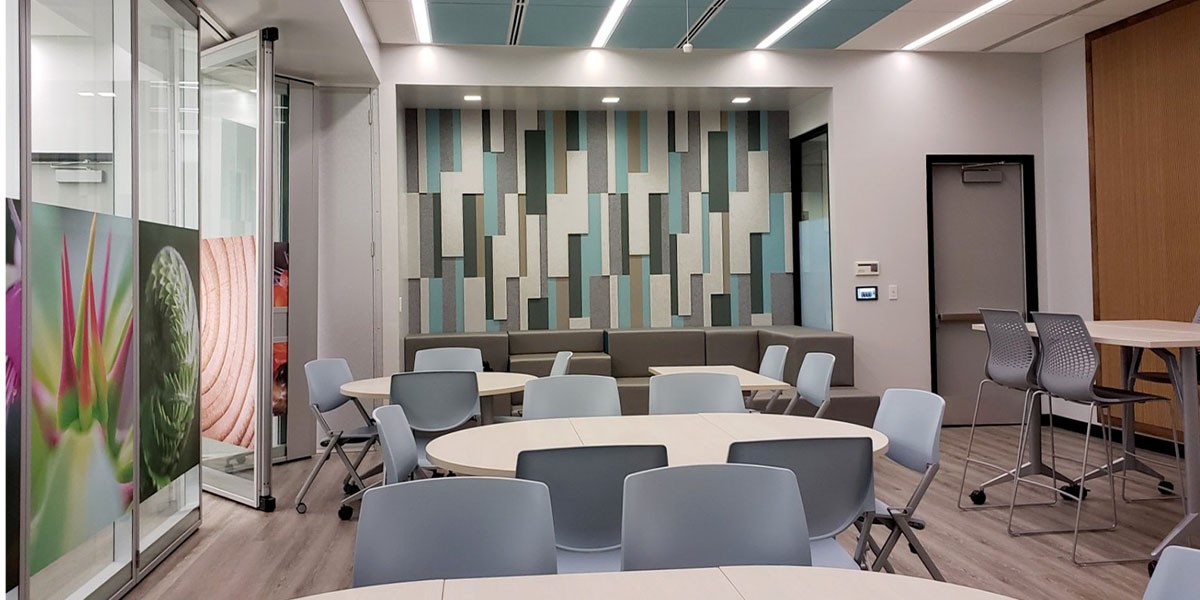 Cal State LA has worked to integrate wellness into the learning environment by aligning the spaces with the International WELL Building Institute's WELL Building Standard, the premier rating system "for advancing health and well-being in buildings and communities globally."
Location: Salazar Hall
Room 98: Capacity 30
Room 99: Capacity 28
Walk-off Mat System: As you walk through the lobby and corridor leading up to the Well-Being Classrooms, the mat system removes 100% of debris from the bottom of shoes after walking on 30 feet of matting.
Air Scrubber System: NASA uses this same system on the International Space Station to keep the air clean and free of Volatile Organic Compounds, surface contaminants, odors, dust and reduces MRSA and E. coli.
Disinfecting LED Lights: provide a safe way to reduce and kill harmful bacteria and fungi including Salmonella and mold.
Natural Light:  prominent throughout the spaces and light floods the adjacent spaces through the glass partition wall. Daylighting incorporates controls that reduce the need for artificial light by flooding the space with natural light.
Lighting and HVAC Ducts: These are linear to provide a flow from one end of the room out towards the windows. Flow is accentuated by incorporating colored-coordinated acoustic ceiling tiles that culminate with the acoustic wall design element in each of the room's nooks. 
Glass Projection Displays: Displays are three times cleaner than typical white board surfaces and also provide cinema-quality resolution when used in conjunction with the laser interactive projector.
Furniture Choices: recognizing that not everyone is comfortable sitting for prolonged periods of time without movement, classroom furniture includes varying levels of height and firmness to provide students the opportunity to move about the space to try different seating and standing postures.
Nook Light Controls: Lights can be controlled as needed to allow for those with varying vision needs.
Sound System: The classroom contains a lavalier mic for the instructor, a hand-held mic to be passed around during breakout groups, and two high tech omni-directional hanging room mics that work for Zoom sessions.
Acoustic Elements:  There are a variety of acoustic features in addition to the design wall including impact-resistant flooring, the acoustic-rated glass partition wall and the bamboo element.
Biophilic Elements:  Studies have shown a reduction in stress levels and increased focus when exposed to biophilic images. Nature images meaningful to Southern California are found outside and within each classroom.  Additionally, both rooms have views through the windows to outside trees.
Active Learning Environment: The concept of having "no front of classroom" allows instructors to actively engage with students in new and different ways. The furniture lends itself to breaking into smaller groups of 2-6. 
Classroom Technology: The technology is scalable, meaning instructors can enter the classroom and teach in as little as five steps.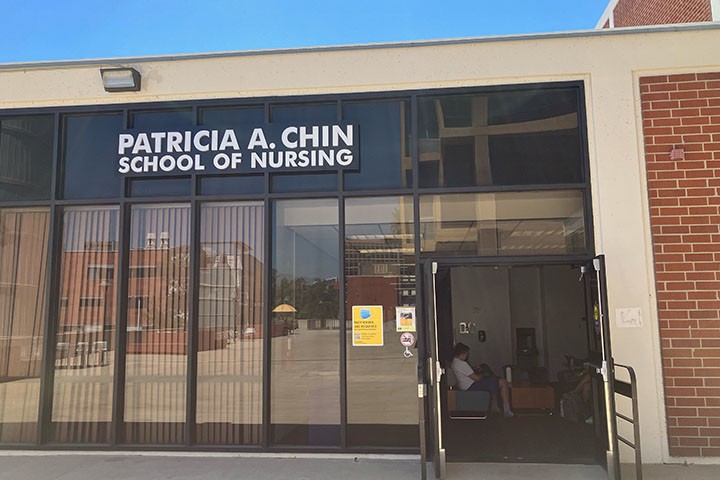 Entrance to Well-Being Classrooms
Access the Well-Being Classrooms through the Patricia A. Chin School of Nursing.