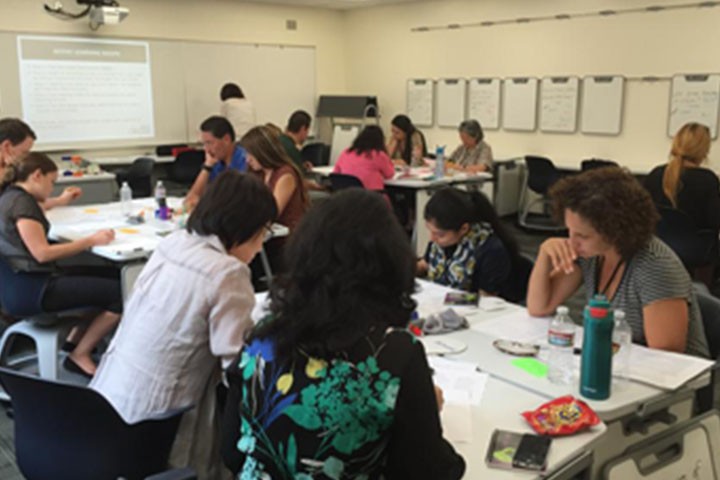 Overview
During Fall 2015, Cal State LA launced several new Flexible Learning Classroom spaces (FLeC-spaces). FLeC-spaces are designed to encourage active learning, small group activities, and increase faculty and student engagement. Currently, there are 3 "low-tech" FLeC-spaces and 3 Technology Enhanced FLeC-spaces (aka T-FLeC-spaces). 
T-FLec Spaces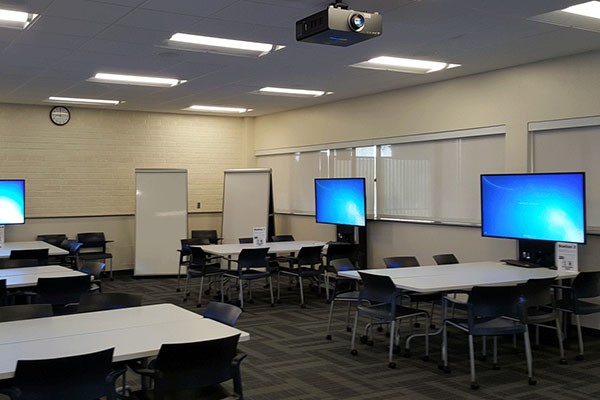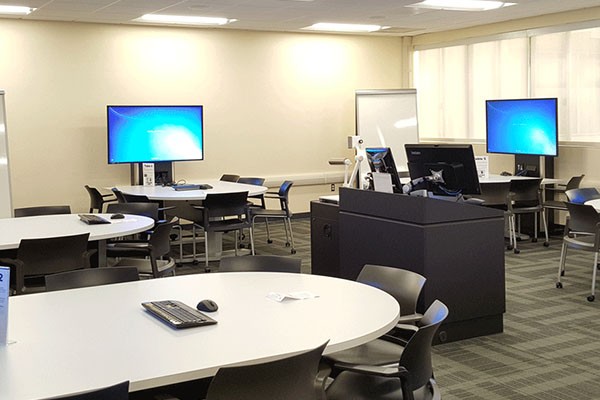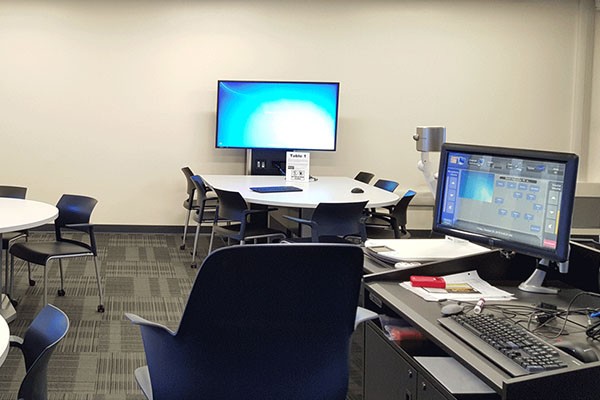 Each T-FLeC-space features an instructor station with touch control panel, flat panel displays with integrated PCs at each table, and 3 moveable whiteboards in the room. These rooms have 6-7 small group tables and generally accommodate up to 50 students.
Scheduling and Support
Your department is now able to schedule courses in active learning classrooms without special permission or training requirements. If you need technical support in the classroom, please reach out to your college ITC, or take a look at our technical documentation.
FAQs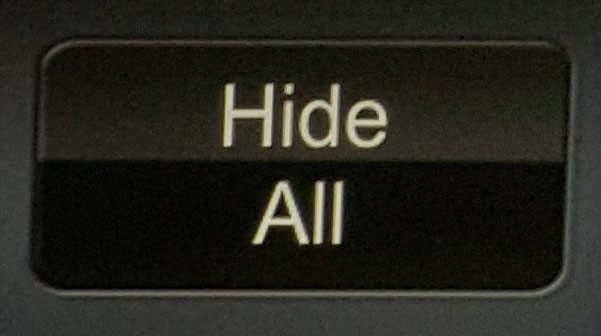 Please make sure that the Hide All appears dark. If the button is yellow it means the displays are hidden and need to be shown in order to work.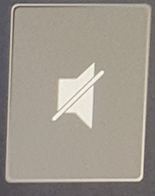 Please make sure the microphone is turned on and that sound from the source is not muted. For example, when playing videos, make sure the YouTube video sound is on as well as the Windows sound. Also make sure that on the media selector the mute icon is grey. If it is yellow, sound will be muted. If you verified that sound should be on, try switching between another source and the source for the sound; this usually fixes most issues.
If the projector is flashing, it means that it is cooling and cannot be turned on yet. Please wait until the flashing stops and then attempt to send a source to it again.
Please make sure that the USB antenna is plugged in and that the remote is powered on.
There are 2 USB ports on the front of the computer and 2 additional ones along the side.
On the side of the computer there is a CD tray where you can load the DVD and then use the computer to play it. You may have to double click on the DVD from My Computer.
If something runs out of battery, we store some backup batteries in each room. If you look below the instructor station, you will find a ziploc bag with AA, AAA, and 9-volt batteries. Please use the appropriate battery and leave the empty batteries to the side. If the room is running low on batteries or is out of them, please contact us and let us know.
Faculty and staff who wish to reserve instructional space should submit a request online through Astra Schedule.  Requests should be submitted by a designated college, department, or program scheduler at least 5 days prior to the event.  See the Astra Schedule Guide for additional instructions.
For any problems with displaying stations, hearing sound, or the microphone not working, please contact your department ITC.
If you have problems with a specific computer and are not able to log on, you can contact the ITS Help Desk.
Or, consult the T-FLeC Space Technical Guide.