ACUE Showcase - Overview
Faculty who have earned the ACUE Certificate in Effective College Instruction, awarded by the Association of College and University Educators, and endorsed by the American Council on Education (ACE), are distinguished as instructors with a commitment to educational excellence.These instructors have implemented effective and equity-promoting teaching practices promote student engagement, persistence to graduation, and deeper levels of learning in their course(s). Data show ACUE Certified faculty retain more students, measurably improve student achievement, and close equity gaps.
ACUE - Credentialed Faculty
Congratulations to the faculty who have completed the Certificate in Effective College Instruction!
Ashley Aragon, Communication Studies
Emily Baird, English
Alexandra Cao Ying, Art
Deborah Conway De Prieto, English
William Cooper, English
Estela Galindo, Modern Languages and Literatures
Irene Grau, Communication Studies
Renee Grodsky, English
Linda-Rose Hembreiker, Music
Nicole Horejsi, English
Kidogo Kennedy, Communication Studies
Daniel Lambert, English
Julie Liss, Television and Film
Cristal Machuca Marquez, Communication Studies
Kara Masek, Music
Laura Mendoza, Communication Studies
Aya Nakagoshi, Liberal Studies
Nidhin Patel, Television and Film
Kathryn Perry, English
Lori Rusch, Art
Carl Schottmiller, Liberal Studies
Lara Schubert, Liberal Studies
Lorna Turner, Art
Alcia Tycer, Theatre & Dance
Amanda Villegas, Modern Languages and Literatures
Theresa Yugar, Liberal Studies
Karen Blackwell, Marketing
Carol Blaszczynski, Management
Patrick Borja, Accounting
Li-Hsueh Chen, Economics
Duane Cofield, Marketing
William Cooper, Business
Brad Feldman, Management
Richard Gregerson, Management
Kathryn Hansen, Accounting
Nazgol Makki, Economics
Frank McEnulty, Management
Jannine Mongeon, Management
Amy Nguyen, Marketing
Belarmina Richards, Management
Marlene Swider, Management
Lisa Vasquez, Management
Xiaohan Zhang, Economics
Tammy Aguilar, Special Education and Counseling
Steven Brownson, Education
Anne Haga, Rehabilitation Services
Ramona Mclaughlin, EDSP (Special Education)
Heidi Paul, Special Education and Counseling
Christina Restrepo, Curriculum and Instruction
Manuel Rivera, Special Education and Counseling
Sharon Ulanoff, EDFN (Education Foundations)
Roberto Fragoso, Electrical Engineering
Margaret Hong, Technology
Tigran Panasyan, Electrical Engineering
Michael Thorburn, Computer Science
Kidogo Kennedy, Pan-African Studies
Arcadia Le Vias Chukwudifu, Pan-African Studies

Michelle Lopez,

Chicana(o) and Latina(o) Studies

Felicia Montez

,

Chicana(o) and Latina(o) Studies
Eva Nicole Vines, Pan-African Studies

Theresa Yugar, 

Chicana(o) and Latina(o) Studies
Meredith Abbasi, Child Development
Frances Abderhalden, Criminal Justice
Gilberto Acosta, Kinesiology
Alejandra Albarran Moses, Child Development 
Maja Broz, Kinesiology
Siouxsie Calderon, Social Work
Anthony Carnevali, Criminal Justice
Meifang Chen, Public Health
Lisa Chinn, Kinesiology
Damon Dees, Kinesiology
Kelly Enos, Criminal Justice
Carissa Feeney, Child Development 
Jane Gauthier, Criminal Justice
Arpie Haroutounian, Kinesiology
Erika Hinahon, Kinesiology
Matthew Jung, Child Development 
Mary Kubalanza, Communication Disorders
Sae-Mi Lee, Kinesiology
Lisa Le, Kinesiology
Rosa Leslie, Social Work
Shichun Ling, Criminal Justice
Kheng Ly-Hoang, Child Development 
Robin Marbelle, Child Development 
Nan Zhao Martin, Public Health
Xiaohan Mei, Criminal Justice
Zitlali Montes, Child Development 
Ashley Munger, Child Development 
Kenneth Peter, Kinesiology
Jose Rios, Social Work
Marisela Rosales, Social Work
Lloyd Ruiz, Kinesiology
Nicole Smolter, Criminal Justice
Cinthya Sotelo, Nursing
Chandan Suresh, Communication Disorders
Ali Tayyeb, Nursing
Daisy Torres, Child Development 
Stacey Warner, Nursing
Isabel Woelfel, Kinesiology
Connie Wong, Kinesiology
Shamim Ahmed, Physics
Carlos Mauricio Amaya, Mathematics
Mckale Antonious, Mathematics
Lauren Arenson, Anthropology
Okezie Aruoma, Chemistry
Smbat Avetyan, Mathematics
Bita Bahrami, Biology
Michael Behrens, Mathematics
Kris Bezdecny, ENSV/GEOG/LAS/GEOL
Michele Bleuze, Anthropology
David Castillo, Mathematics
Jonathan Chan, Mathematics

Wei-Lun (Jason) Chiu, 

History
Ying Choi, Mathematics
Amber Sau Cun, Mathematics
Serj Danielian, Biology
Stasie Dear, Psychology
Maddalena DeSalvo, Mathematics
Wagner Diaz, Mathematics
Alexandra Garcia, Biology
Hichem Hajaiej, Mathematics
Angelique Hamane, Natural Sciences
Susan Haynes, Psychology
Fendi He, Mathematics
Silvia Heubach, Mathematics
Giovanni Hortua, History
Mon Hsia, Chemistry
Kai Hu, Mathematics
Lily Huang, Mathematics
Sheng (Sharon) Hung, Mathematics
Tina Givrad, Mathematics
Lusine Kopushyan, Mathematics
Raja Kuppusamy, Mathematics
Aiken Lenh, Mathematics
Lisa Lugo, Biology
Cynthia Martinez, Psychology
Jeffrey Munoz-O'Laughlin, Mathematics
Margaret Myers, Biology
Paul Narguizian, Biology
Bao-Ngoc Ngo, Mathematics
Zhengqing Ni, Mathematics
Nelli Papoyan, Mathematics
Novita Phua, Mathematics
Gloria Preza, Biology
Shakila Rahman, Biology
Nairi Rostami, Mathematics
Mohamad Ali Salim, Mathematics
Nellie Sam, Mathematics 
Evette Samaan, Psychology
James Sera, Anthropology
Melanie Stagnaro, Sociology
Gustavo Subuyuj, Mathematics
Gohar Vardapetyan, Mathematics
Angela Vergara, History
Hillary Vo, Mathematics
Anh Vo, Mathematics
Karen Wu, Psychology
Lulu Yamashita, Mathematics
Xingtao Ye, Mathematics
Eric Yip, Mathematics
Erika Zambrano-Morales, Psychology
Anthony Zamora, Mathematics
Roger Zhang, Mathematics
Is ACUE For Me?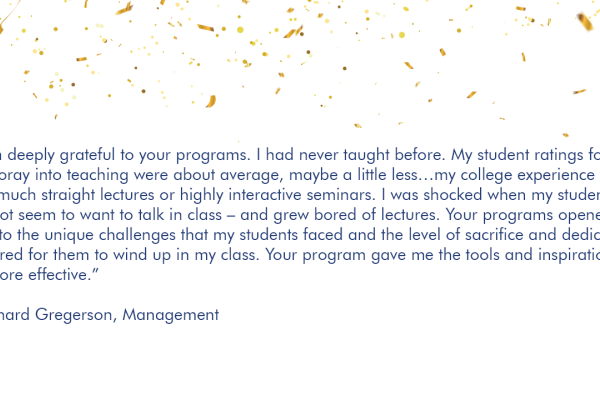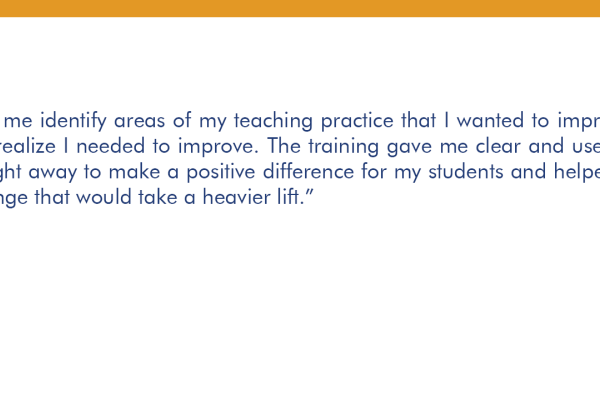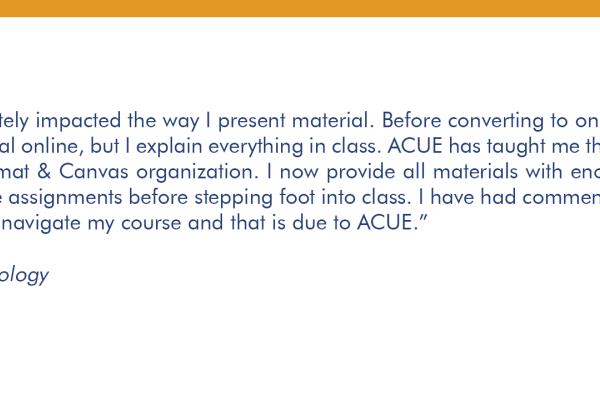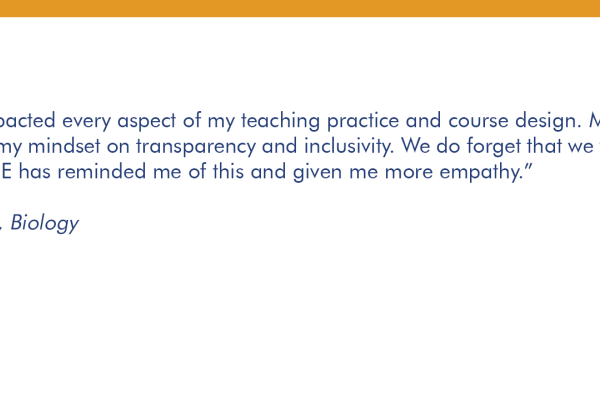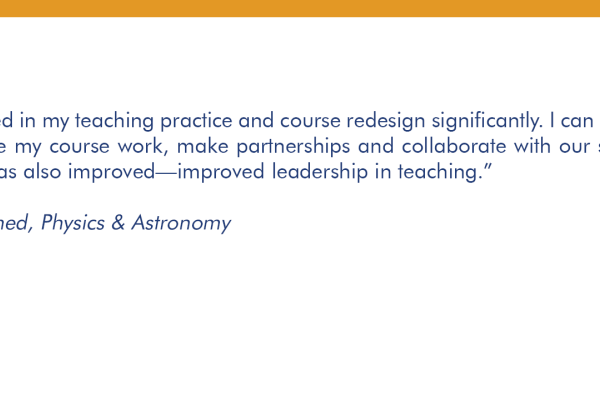 ACUE is open to any faculty who seek to:
Improve teaching effectiveness

Increase student engagement

Enhance course structure
The program is also ideal for exploring alternative methods of instruction, refining current skills, or learning new techniques to manage a classroom.
Questions?
Refer to our main ACUE webpage or contact [email protected] for more information about this program.