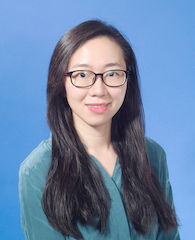 College of Natural and Social Sciences
Department of Chemistry & Biochemistry
Office Location ASCB122D
Associate Professor
Research Interests: 
Analytical Chemistry, Nanoscale electrochemistry, Scanning probe microscopy, Plasmonic based imaging and sensing techniques, Single entity analysis, Parkinson's Disease, Environmental Sciences 
Teaching: 
CHEM 3500 Quantitative Analysis 
CHEM 4510 Advanced Analytical Chemistry: Optical Spectroscopy
CHEM 4520 Advanced Analytical Chemistry: Analytical Separations and Mass Spectrometry
CHEM 4530 Advanced Analytical Chemistry: Electrochemistry and Surface Techniques  
CHEM 5000 
Interdisciplinary Discoveries in Chemistry and Biochemistry
Postdoctoral Research Associate, Biodesign Institute, Arizona State University, 2013-2016
Ph.D. in Chemistry, The City University of New York, New York, NY, 2007-2013
B. S. in Materials Chemistry, Peking University, Beijing, China, 2002-2006
(Please see Google Scholar Citation 

for a full list of publications,

student authors from CSULA are highlighted in bold

)
B. A. Beadell, A. Chieng, K. R Parducho, 

Z. Dai, S. Ho, G. Fujii,

Y. Wang, E. Porter* "Nano- and Macroscale Imaging of Cholesterol Linoleate and Human Beta Defensin 2-Induced Changes in Pseudomonas aeruginosa Biofilms"

 

Antibiotics

, 

2021

, 10 (11), 1279  

A. Garcia, S. Wang, N. Tao, X. Shan*, Y. Wang* "Plasmonic Imaging of Oxidation and Reduction of Single Gold Nanoparticles and Their Surface Structural Dynamics" ACS Sens. 2020, 6 (2), 502-507

J. Parres-Gold, A. Chieng, S. Wong Su,  Y. Wang

* "Real-Time Characterization of Cell Membrane Disruption by α-Synuclein Oligomers in Live SH-SY5Y Neuroblastoma Cells" 

ACS Chem. Neurosci.

, 

2020

,

11 (17), 2528-2534

K. R Parducho, B. Beadell, T. Ybarra, M. Bush, E. Escalera, A. T. Trejos, A. Chieng, M. Mendez, C. Anderson, H. Park, Y. Wang, W. Lu, E. Porter* "The Antimicrobial Peptide Human Beta-Defensin 2 Inhibits Biofilm Production of Pseudomonas aeruginosa Without Compromising Metabolic Activity" Front Immunol, 2020, 11, 805

M. Chang, G. Morgan, F. Bedier, A. Chieng, P. Gomez, S. Raminani, Y. Wang* "Recent advances in nanosensors built with pre-pulled glass nanopipettes and their applications in chemical and biological sensing" J. Electrochem. Soc., 2020, 167 (3), 037533
Q. Liu, X. Wang*, A. Benedict, L. Janibekyan, S. Wong Su, Y. Wang*, F. Zhou* "Surface Plasmon Resonance Coupled with Potential-Step Chronoamperometry: Theory and Applications for Quantitative Measurements of Electrodeposited Thin Films". Electroanalysis, 2019, 31, 1-8.
A. Chieng, M. Chiang, K. Triloges, M. Chang and Y. Wang* "Recent progress in the studies of electrochemical interfaces by surface plasmon resonance spectroscopy and microscopy", Curr. Opin. Electrochem. 2019, 13, 94.
S. Wong Su, A. Chieng, J. Parres-Gold, M. Chang, Y. Wang* "Real-time determination of aggregated alpha-synuclein induced membrane disruption at neuroblastoma cells using scanning ion conductance microscopy" Faraday Discuss., 2018, 210, 131
Y. Wang, D. Wang, M. V. Mirkin "Resistive-pulse and Rectification Sensing with Glass and Carbon Nanopipettes" invited article for Proc. R. Soc. A, 2017, 473, 20160931
Y. Wang, X. Shan, S. Wang, N. Tao "Plasmonic Imaging of Surface Electrochemistry of Single Gold Nanowires", J. Am. Chem. Soc., 2017, 139, 1376
Y. Wang, X. Shan, N. Tao "Emerging Tools for Studying Single Entity Electrochemistry", Faraday Discuss, 2016, 193, 9
Y. Wang, X. Shan, S. Wang, N. Tao, P. Y. Blanchard, Y. Yu, K. Hu, and M. V. Mirkin "Imaging Local Electric Field Distribution by Plasmonic Impedance Microscopy" Anal. Chem. 2016, 88, 1547
Y. Wang, X. Shan, F. Cui, J. Li, S. Wang, N. Tao, "Electrochemical Reactions in Sub-femtoliter-Droplets Studied with Plasmonics-based Electrochemical Current Microscopy" Anal. Chem. 2014, 87, 494
Y. Wang, K. Kececi, M. V. Mirkin "Electron Transfer/Ion Transfer Mode of the Scanning Electrochemical Microscope (SECM)", Chem. Sci., 2013 ,4, 3606
Y. Wang, K. Kececi, M. V. Mirkin, V. Mani, N. Sardesai and J. F. Rusling "Resistive-Pulse Measurements with Nanopipettes: Detection of Au Nanoparticles and Nanoparticle-Bound Anti-peanut IgY", Chem. Sci., 2013 ,4, 655
Y. Wang, J.-M. Noel, J. Velmurugan, W. Nogala, M. V. Mirkin, С. Lu, M. G. Collignonl, F. Lemaître and C. Amatore "Nanoelectrodes for Determination of Reactive Oxygen and Nitrogen Species inside Biological Cells" Proc. Nat. Acad. Sci., 2012, 109, 11534.
Y. Wang, T. Kakiuchi, F. Shigematsu and M. V. Mirkin "Kinetics of Ion Transfer at the Ionic Liquid/Water Nanointerface" J. Am. Chem. Soc., 2010, 132, 16945.
Y. Wang, J. Velmurugan and M. V. Mirkin, P. J. Rodgers, J. Kim and S.Amemiya "Kinetic Study of Rapid Transfer of Tetraethylammonium at the 1,2-Dichloroethane/Water Interface by Nanopipet Voltammetry of Common Ions" Anal. Chem., 2010, 82, 77.
Funding:
NSF CAREER (PI, 2021-2026)
NIH Research Enhancement Award (R15, PI, 2020-2023)
NSF-Major Research Instrumentation (PI, 2018-2021)
NSF CREST (Co-PI, 2022-2027)
La Kretz Environment Endowment (PI, 2018-2019)
NSF-PREM (seed grant PI,
2018-2019
) 
CSUPERB New Investigator Grant (PI, 2017-2019)