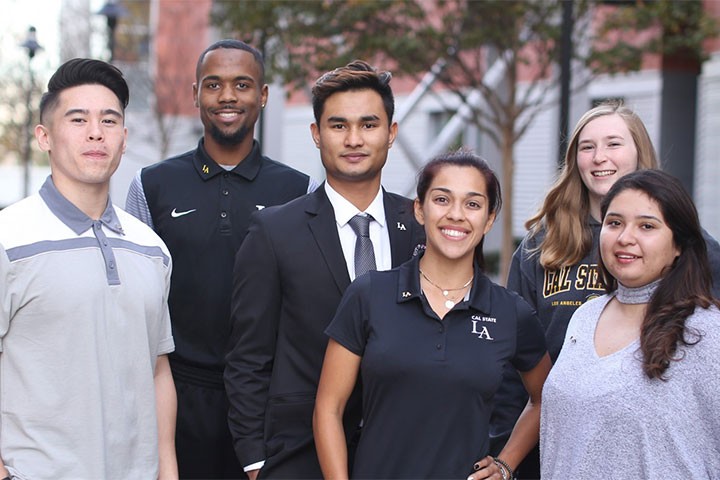 Supporting Golden Eagles
Annual Giving raises funds for academic excellence at Cal State LA and reaches out to alumni, faculty, staff, students, and friends to encourage their lasting connection and involvement with the University.
California State University, Los Angeles
5154 State University Drive, U-SU 102
Tel: (323) 343-4866
Email: [email protected]
Programs and Services
Some of the most important gifts Cal State LA receives are unrestricted through the Cal State LA Fund. This generates the University's greatest source of flexible income, supporting the University's ongoing expenses and priorities. Technology and needs can change rapidly, and your unrestricted gift provides for a greater range of options.
When you contribute to the Cal State LA Fund, you are investing in the success of our students. With immediate and direct impact, your gift supports a Cal State LA experience that transform lives and fosters thriving communities by delivering cutting-edge academic programs that prepare students to be innovative leaders in both their professional and civic lives.   
For more information about the Cal State LA Fund, please contact the Office of Annual Giving at (323) 343-4866.
Cal State LA's Phonathon is an annual philanthropy program run by the Office of Annual Giving that links Cal State LA alumni and friends of the university to current students, particularly our Annual Giving Student Assistants. They not only ask for philanthropic support, but they also share experiences and stories with alumni and friends cementing their tie to Cal State LA. The connections built by our student assistants, aid us in achieving our mission for meeting our student's educational needs and helping them succeed.
Phonathon has an impact on Cal State LA
Phonathon plays an important part in Cal State LA's fundraising endeavors. Every year annual giving raises up to $400,000 to support the greatest needs of the campus. The more money and number of donors raised for Cal State LA the more that the university can focus on providing a top-tier quality education along with practical experiences transferable into the workforce.
Student Employement
Every year we employ up to 16 students as Annual Giving Student Assistants for our Phonathon program to act as ambassadors for Cal State LA to help us raise vital support for students. Working at the Cal State LA Phonathon program will provide you with the opportunity to attain a variety of transferrable skills that will serve you for a lifetime, in areas such as:
Communications

Customer Service

Non-Profit

Marketing

Public Relations

Sales

Networking

Teamwork
Phonathon is not for everyone. 
Annual Giving Student Assistants must be proud to be Cal State LA Golden Eagles, and be willing and able to create a relationship with alumni and friends in order to solicit gifts needed to support the Cal State LA Fund. The Cal State LA Phonathon is one of the direct forms of contact that alumni and friends of the university receive so it is important that you do your best on each call to engage and encourage them to support Cal State LA. Our Annual Giving Student Assistant's play a key role in acquiring and retaining donors for Cal State LA.
Qualifications To Apply:
Must be a Cal State LA student in good standing with the University

Must have a GPA 2.0 or Higher

Must be able to provide identification for employment eligibility. 
If you think that you have what it takes and want to help your fellow students:
Apply today!
Please complete the Student Assistant Employment Application and return it to the Office of Annual Giving by emailing it to [email protected].
For more information, please contact us at (323) 343-4864.