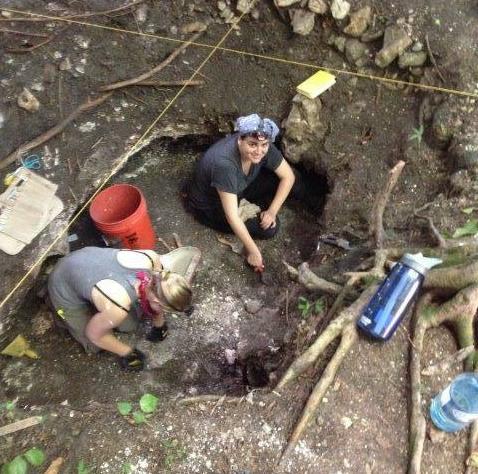 Cal State L.A. anthropology major Jocelyn Acosta has been named by Hispanas Organized for Political Equality (HOPE) as one of five 2015 Future History Makers.
The award is presented to high-achieving Latina students who are involved in activities and projects that benefit the community, or who are advancing in an academic field, or working on groundbreaking research or inventions.
"What a great surprise and honor," Acosta said. "I'm in archaeology, which has often been thought of as a man's field. But, it is changing and I want to be part of that change."
Acosta, a Los Angeles resident, will receive the Future History Maker Award during HOPE's 24th Annual Latina History Day Conference at the Los Angeles Millennium Biltmore Hotel on March 13. The organization presents the awards through a partnership with the Estée Lauder Companies. "The Latino History Day conference honors the role Latinas have played in advancing California as well as to be inspired," said Helen Torres, executive director of HOPE. "Acosta's leadership and success story will motivate the women and youth in attendance to even dream further."
Acosta has long been interested in ancient cultures of Latin America and in pursuing a career that is related to her culture. She will graduate this coming June with a bachelor's degree in anthropology and a minor in Central American studies. She plans to apply to graduate school at Cal State L.A. to continue with her specialization in Mesoamerican cave archaeology. Her goal is to earn a Ph.D. in Maya archaeology.
Last summer, Acosta conducted archaeological research at the Maya site of La Milpa in the Orange Walk District of Belize.
"This was my first fieldwork," she said. "There were days when the heat index hit 110 degrees and there were jillions of mosquitos, but I expected that from my childhood in native Honduras."
Acosta was conducting fieldwork as part of the Cal State L.A. Sacred Landscape Archaeology Project in Central America with Professor James Brady.
"This project marked a transition for me," she added. "I went from being a student to an archeaologist so quickly that I sometimes have to pinch myself to believe it. I still have a long way to go, but now I have a far better idea of where I am going and how I will get there."
This April, she will present a coauthored paper on her summer field experience and excavations during the 80th Annual Meeting of the Society for American Archaeology. She will also be coauthoring a project report, which will soon be published in the Occasional Papers of the Mesoamerican Archaeology Laboratory at the University of Texas. She has also volunteered at the Autry National Center and the Southwest Museum of the American Indian.
"I am pleased that Jocelyn is being recognized by HOPE for her accomplishments in the field of anthropology and for her passion in studying the Mesoamerican culture and history," said Professor Brady, who is Acosta's faculty mentor.
# # #
Pictured: Jocelyn Acosta conducting fieldwork in Belize.
Cal State L.A. is a university dedicated to engagement, service, and the public good. Founded in 1947, the University serves over 24,000 active students, and 235,000 distinguished alumni, who are as diverse as the city we serve. Located in the heart of Los Angeles, Cal State L.A. has long been recognized as an engine of economic and social mobility. Led by an award-winning faculty, the University offers nationally recognized programs in science, the arts, business, criminal justice, engineering, nursing, education and the humanities.
Cal State L.A. is home to the critically-acclaimed Luckman Fine Arts Complex, Pat Brown Institute for Public Affairs, Hertzberg-Davis Forensic Science Center, Hydrogen Research and Fueling Facility, Billie Jean King Sports Complex, TV, Film and Media Center and the Center for Engagement, Service, and the Public Good. For more information, visit CalStateLA.edu, or like us at Facebook.com/CalStateLA. 
03/05/15