Los Angeles, CA -- Elva Cortez-Covarrubias, a recent graduate of Cal State LA's doctoral program in educational leadership, has been honored for her dissertation on social justice.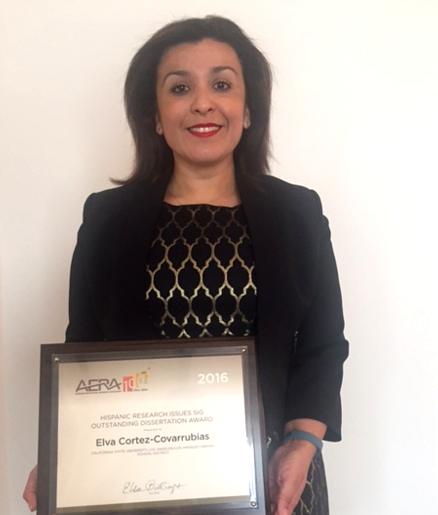 Cortez-Covarrubias received the Outstanding Dissertation Award from the American Education Research Association Hispanic Research Issues Special Interest Group. The award was presented during the association's conference last week in Washington, DC.  
"Dr. Cortez-Covarrubias is an amazing practitioner-scholar who continually strives toward social justice and equity for all students," said Sharon Ulanoff, associate director of the Ed.D. program at Cal State LA. "Her dissertation fills a critical gap in the literature related to Latina leadership in K-12 schools and makes a significant contribution to the field. The award is well-deserved." Ulanoff is also chair of Cortez-Covarrubias' dissertation committee.
The award selection committee determined that Cortez-Covarrubias' dissertation revealed "a promising combination of hard work and creative insight into the challenges facing Latina/o education."
Cortez-Covarrubias' doctoral dissertation, "Latinas Leading for Social Justice: Resistance and Recognition through Dual Language Programs," is a narrative inquiry that gives voice to Latina leaders who work in K-12 schools. She recounts their testimonios to highlight the experiences that influenced their identity and leadership trajectories. Testimonio is a first person narrative.
"For my dissertation, my goal was to address the lack of attention to the experiences of school leaders from diverse backgrounds in the literature on leadership for social justice," said Cortez-Covarrubias, who resides in Los Angeles.
Cortez-Covarrubias currently serves as the director of certificated performance evaluation support for the Los Angeles Unified School District. She has previously served as a principal, assistant principal, English Language Programs coordinator, and teacher. She holds an M.Ed. and an administrative credential from the Principal Leadership Institute at UCLA, and an M.A. in political science from University of Michigan.
# # #
Cal State LA is a university dedicated to engagement, service, and the public good. Founded in 1947, the University serves more than 27,000 students and 240,000 distinguished alumni, who are as diverse as the city we serve. Located in the heart of Los Angeles, Cal State LA has long been recognized as an engine of economic and social mobility. Led by an award-winning faculty, the University offers nationally recognized programs in science, the arts, business, criminal justice, engineering, nursing, education and the humanities.
Cal State LA is home to the critically-acclaimed Luckman Fine Arts Complex, Pat Brown Institute for Public Affairs, Hertzberg-Davis Forensic Science Center, Hydrogen Research and Fueling Facility, Billie Jean King Sports Complex, TV, Film and Media Center and the Center for Engagement, Service, and the Public Good. For more information, visit www.CalStateLA.edu.
04/14/16