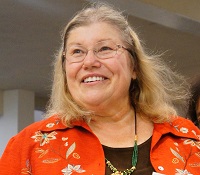 Charter College of Education
Department of Special Education & Counseling
Office Location KHC-1032
INTRODUCTION
Sherwood Best completed her Ph.D. in Special Education and Educational Psychology from the University of California, Riverside, in 1995. She is the Program Coordinator for the education specialist credential and masters programs in Physical and Health Impairments (PHI) in the Division of Special Education at CSULA. She also coordinates the Added Authroization programs in Orthopedic Impairments (OI) and Other Health Impairments (OHI) that add expertise to existing education specialist credentials.  Students who complete the PHI credential program are authorized to work with individuals from birth through 21 years in regular public schools, special classes and centers, hospitals, and homes. Students who complete the Oi and OHI added authorization are authorized to work with individuals from Kindergarten through 21 years. The credential program in Physical and Health Impairments is the only one of its kind currently in the state of California. Dr. Best is the Past President of the National Division for Physical and Health Disabilities of The Council for Exceptional Children, and Past President of the California Association for Physical and Health Impairments. Dr. Best recently collaborated with San Diego Unified School District in developing and implementing a state-wide conference about supporting assistive technology for children and youth with physical disabities. She will continue her research about coping and education needs of children with physical, health, and multiple disabilities through a first edition of her existing textbook in e-text format. Dr. Best's involvements outside the United States extended to early childhood special education training in Bangalore, India at the Vydehi Institute of Medical Sciences, during 2003-2004. She is currently involved in transition services program in a school District adjacent to CSULA in which students come to campus to engage in work and leisure activities in preparation for exiting the public school.
---
TEACHING INTERESTS
Dr.Best teaches numerous classes in the credential, added authorization, and masters programs in special education, and specializes in curriculum adaptations and psychosocial health os students with physical and health impairments. Her professional interests include quality of life, psychosocial aspects of disability, special education curricula, early childhood special education, and teacher education.
---
RESEARCH
Dr. Best's special education teaching background provided the platform for her current teaching interests. Her concerns with inclusion and acceptance of students with physical impairments in public school settings led to her current research in developing models of quality of school life of students with physical impairments. Dr, Best has made numerous national and state-level conference presentations in the field of physical and health impairments.
---
PUBLICATIONS AND PRESENTATIONS
| | |
| --- | --- |
| Date | Publications/Presentations |
| 2014 | Best, S. J. Cerebral palsy (pps. 219-232). In M. G. Brodwin & S. K. Brodwin, (Eds.), Medical, psychosocial, and vocational aspects of disability (3rd ed.). Athens, GA: Elliott & Fitzpartick. |
| 2013 | Best, S. J. Past, present, and future perspectives in physical, health, and multiple disabilities. Physical Disabilities: Education and Related Services, 32(1), 1-7 |
| 2010 | Best, S. J., Heller, K. W., & Bigge, J. L. Teaching individuals with physical or multiple disabilities (6th ed.). Upper Saddle River, NJ: Pearson Education. |
| 2010 | Best, S. J. Cerebral palsy (pps. 305-318). In M. G. Brodwin & S. K. Brodwin, (Eds.), Medical, psychosocial, and vocational aspects of disability (2nd ed.). Athens, GA: Elliott & Fitzpartick. |
| 2009 | Heller, K. W., Forney, P. E., Alberto, P. A., Best, S. J., & Schwartzman, M. N. Understanding physical, health, and multiple disabilities (2nd ed.). Upper Saddle River, NJ: Pearson Education. |
---
EDUCATIONAL BACKGROUND
Ph.D. - 1995    University of California, Riverside
Special Education/Educational Psychology
           Graduate Council Fellowship, 1987-1988; 1988-1989
            Outstanding Teaching Assistant, 1990
M.A. - 1980     California State University, Los Angeles
              Education: Special Emphasis in Orthopedic Handicaps
              Outstanding Graduate Student, 1980-1981
              Special Education Scholarship, Physical Disabilities, 1979-1980; 1980-1981
B.A. - 1973      Pitzer College, Claremont California
                Major: Psychology
                Academic Honors at Graduation
---
GRADUATE EDUCATION ACTIVITIES
Program Coordinator:             Education Specialist Credential in Physical and Health Impairments
                                                (PHI), current
                                                Added Authorization Programs in Orthopedic Impairment (OI) and
                                                Other Health Impairments (OHI), current
Masters Project Committee   Ms. Seanarae Smith, CSULA, 2015
Advisor/Mentor:                     Ms. Angie Juarez, doctoral student, Azusa Pacific University
Board Member:                      Centro de Niños y Padres/Center for Young Children and their
                                               Families, 1998-2013
Consultant:                             Behavior, Education, Learning Institute (BELI) Monterey Park, 2000-current
                                               Claremont Unified School District, 2011-2012
Reviewer:                                Physical Disabilities: Education and Related Services (formerly the DPH Journal), 2006-2013;
                                                Journal of Autism and Other Developmental Disabilities, 2009-2014
Invited Panelist:                      Careers for Psychology Majors, Pitzer College, Claremont, California, 2010
---
PROFESSIONAL AFFILIATIONS
Association for the Education of Children with Medical Needs (ACEMN): 2005-present
The Council for Exceptional Children (CEC): 1980-present
Division for Physical, Health, and Multiple Disabilities (DPHD) of CEC: 1980-present
California Association for Physical and Health Impairments (CAPHI): 1984-present, Vice-President, 1996-1998, President, 2002-2005, 2010-2014, Past-President, 2014-present, Conference Committee (2002-present)
---
OTHER PROFESSIONAL ACTIVITIES
Editor, DPHMD Newsletter, 1983-1990, 1996-2000
Member, DPHMD Critical Issues and Leadership Committee, 1996-2013
Member, DPHMD Severe and Multiple Disabilities Committee, 1996-2013
Member, DPHMD Home/Hospital Committee, 1996-2013
DPHMD Past-President, 1997-1998
DPHMD President, 1996-1997
DPHMD President-Elect, 1995-1996
DPHMD Vice-President, 1994-1995
DPHMD Secretary, 1990-1991
CAPHI Past-President, 2014-present
CAPHI President, 2008-2014