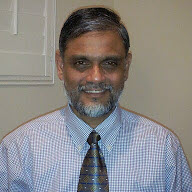 College of Arts and Letters
Department of Communication Studies
Office Location MUS207
Mohammad A. Auwal (Ph.D., 1994, Ohio University) has been a full professor in the Department of Communication Studies since 2006.  He joined California State University, Los Angeles as an assistant professor in 1994.  He has taught and conducted research at four international universities on visiting missions.  During the 2008-2010 academic years, he served as a Fulbright scholar at Qatar University, Qatar.
Dr. Auwal teaches in the area of Organizational Communication and Public Relations.   He has taught a variety of graduate and undergraduate courses that include Communication Theory, Organizational Communication, Qualitative Research Methods, Intercultural Communication, Public Relations Principles, Publicity and Promotions, Leadership, and Globalization.
His research interests include organizing for social change, strategic communication ethics, and critiques epistemic fallacies, political mythologies, and social injustice.  His research has been published in refereed journals that include Communication Theory, Journal of Business Communication, Communication Monographs, and The Fletcher Forum of World Affairs. In his doctoral dissertation, he examined the organizational practices of the Grameen Bank, a Bangladeshi rural development organization that won the Nobel Prize for Peace in 2006.
Dr. Auwal grew up in Bangladesh where he studied English literature for his B.A. Honors and M.A. degrees.  He served in the Bangladesh Civil Service (BCS) as information officer and assistant director in the Ministry of Information for about seven years before moving to the U.S. in fall 1990 for graduate study.