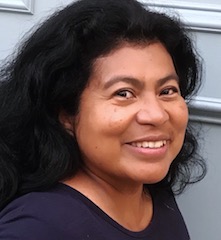 College of Natural & Social Sciences
Department of Anthropology
INTRODUCTION
Dr. Hernández joined CSULA as faculty in Chicana(o) Latina(o) Studies in 2002. This year she joins the faculty in the Department of Anthropology. Her research on Salvadoran migration and family remittances has been published in the Journal of American Ethnic History and Economy & Society.  She was a Rockefeller Foundation Fellowship recipient (CSULA, 2003-2004) on the theme of "Families and Belonging in the Multi-ethnic Metropolis." She is co-editor of the first anthology about 1.5 and second generation Centroamericanas/os and U.S. Central Americans entitled U.S. Central Americans: Reconstructing Memories, Struggles and Communities of Resistance (University of Arizona Press, 2017). Dr. Hernandez was born in El Salvador and grew up in Los Angeles. She is an amateur radio host for a transnational community radio project out of Orange County, CA that transmits ONLINE, on shortwave FM and on social media to magnify the stories and collective action of immigrants along Mexico-U.S. border/Mexico-Central America border contexts.
Serves as Vice Chair of the Board of Directors of the Coalition for Humane Immigrant Rights of Los Angeles (CHIRLA).
Serves on the Editorial Board of Latinx Talk
---
TEACHING INTERESTS
Interests: Central America, Globalization and Immigration, Labor & Social Movements in the Americas; Urban Anthropology; Community-based research/Participatory Action Research
---
RESEARCH
Youth, immigration, memory and belonging. 
Legal status and its effects on immigrant well-being and health.
Immigrant women's collective action and emplacement.
Latinx communities and their regional sociocultural and economic influence.
---
SELECTED PUBLICATIONS
| Title | Date |
| --- | --- |
| #FamiliesBelongTogether: Central American Family Separations From the 1980s to 2019 (with Leisy Ábrego) in Critical Dialogues in Latinx Studies. Ana R.Zayas and Merida Rua (editors), NYU Press. | 2021 |
| "Re-membering Through Cultural Interventions: Mapping Central Americans in LA Public Spaces" (Ch. 7) in U.S. Central Americans: Reconstructing Memories, Struggles and Communities of Resistace. Karina Oliva Alvarado,  Alicia Estrada and Ester E. Hernández (eds.) University of Arizona Press. | 2017 |
| "Relief Dollars: U.S. Immigration Policies Toward Central Americans, 1980s to Present" Winter/Spring Issue of Journal of American Ethnic History vol 25 pp226-242. | 2006 |
| "Remitting Subjects, Money Migrants and States" in Economy and Society. Vol 35 (2):pp185-208. May 2006 (Co-authored with Susan Coutin) | 2006 |
| Chicanos Latinos and Cultural Diversity: an Anthology. Dubuque, IA: Kendall-Hunt Publishing Co. (with Dionne Espinoza, Richard Rodriguez and Lionel Maldonado (eds.) | 2004 |
---
EDUCATIONAL BACKGROUND
Ph.D. Social Science 2002 UC Irvine
M.A. Social Science 1996  UC Irvine
B.A. Social Science  and Spanish 1991 UC Irvine