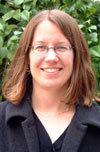 College of Natural & Social Sciences
Department of Chemistry & Biochemistry
Office Location ASCB221F
---
Dr. McCurdy is a Professor in the Department of Chemistry and Biochemistry, specializing in Organic Chemistry. Prior to coming to Cal State LA in 2002, she was an Assistant Professor at Harvey Mudd College.
---
TEACHING INTERESTS
Dr. McCurdy enjoys teaching courses in her field of specialization (organic chemistry), and in related fields such as physical organic chemistry, bioorganic chemistry, and drug discovery.  She also is passionate about the importance of scientific literacy in the public and first-year college student support, and therefore she teaches general education courses such as Molecules Matter and Introduction to Higher Education.
---
RESEARCH INTERESTS
Dr. McCurdy's research area is in the development of molecules whose shape (and color) change in response to light.  These photochromic molecules are also designed to bind and release metal ions in a light-controlled manner. The students in her research group create and characterize these photoswitches.  These molecules may be used as a photoswitchable "cage" for calcium ions that is a tool used by cellular biologists to study important calcium signaling processes in cells. 
---
EDUCATIONAL BACKGROUND
Camille and Henry Dreyfus Postdoctoral Fellow (1994-1996) CSU Fullerton
Ph. D., Organic Chemistry (June, 1995) California Institute of Technology, Pasadena, CA
S.B., Biological Chemistry (June, 1988) University of Chicago, Chicago IL