The Center provides infant and toddler classrooms for children 6 months to 36 months of age. This program serves 40 children in 3 different classrooms designed for the specific needs of young children. The infant room offers a 1:3 teacher-child ratio and the toddler rooms have a 1:4 ratio. We offer continuity of care for infants and toddlers and keep primary care groups together until they reach preschool.
Our program draws on the infant and toddler's natural interest of discovery, urge to learn, and the need for close, responsive relationships with caregivers. Infants and toddlers have their own curriculum. Teachers plan the environment carefully so that lessons may be learned through exploration and discovery. Sensitive observation of the children's needs and interests lead teachers to the appropriate next steps to take in planning. Planning for each day is based on these observations and emphasizes child-directed learning over adult-directed learning.
Young infants need closeness, reassurance and comfort to strengthen their sense of security. Our infant program provides opportunities for close contact and security by assigning a primary caregiver for each child. Teachers help infants by being available and responding promptly, bringing things of interest to the infant, and taking the infant to interesting things. A calm and soothing environment is provided to avoid overstimulation.
Older infants and toddlers are captivated by their growing ability to move. Caregivers provide a secure base of support from which children can venture out and explore. Exploration is encouraged by providing a safe and interesting environment, while at the same time providing challenging opportunities for movement.
Morning Arrival
7:30-8:30 Infants arrive with their parents and are greeted by the teachers. Parents then fill out an information sheet where they can give their child's primary caregiver information about their child's night and morning routines; meal times, sleep and other important information about their child.
Breakfast
8:30-9:15 Infants have individualized feeding schedules. Teachers will hold babies who are bottle fed and once babies are able to sit independently, they sit in small groups at a table with teachers. Information from the parent about when your child eats and what foods to introduce is important in order to keep consistency and identify food allergies. At all meal times, nursing mothers are encouraged to sit on a cozy rocker or sofa to breastfeed their baby.
Morning nap time
9:30-10:30 Usually younger infants sleep after breakfast while older infants who do not need a nap can go outside to the patio or play inside.
Morning choice time
10:30-11:30 This is a free time for babies to explore inside or have special time with peers and caregivers
Lunch time
11:30-12:00 The Center provides infant formula, cereal and baby food that can be introduced into the babies diet as discussed with parents. The Center also has a cook on site that makes healthy and delicious meals once babies are eating solid food.
Afternoon nap
12:15-2:30 Younger babies usually take an afternoon nap. Older babies have opportunities to play indoor or outdoors.
Afternoon snack time
3:00-4:00 A light snack is offered to babies waking up from their nap.
Afternoon choice time
3:00-5:00 Indoor free play time gives babies the opportunity to explore indoor equipment, look at books, play with cause and effect toys, sing songs with teachers and explore their environment.
End of the day goodbyes
5:00-5:30 Parent's reconnect and view the information of their babies' day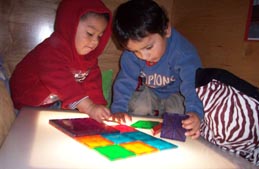 Morning Arrival 7:30- 8:30 Parents arrive and are greeted by teachers. Parents change their child's diaper or encourage child to go potty as their last intimate moments before leaving.
Breakfast
8:30- 9:00 Breakfast is served in small groups as children arrive to the Center. The children are served family style by their primary teacher in order to encourage a positive meal time.
Morning Choice Time
10:00-11:30 Children have a choice to work inside the classroom or explore the outside yards.
Lunch
11:45-12:30 Lunch routines for toddlers focus on their increasing competencies as they learn to toddle to the sink, wash their hands and feed themselves.
Nap
12:45-2:30 Caregivers rub backs and read stories. This is a wonderful opportunity for children to bond with their primary teacher.
Snack
3:00- 4:00 Snack available, indoor choice time
Afternoon Choice Time
4:00-5:00 The children may play in the side yard with water, sand, and use push toys and balls. Indoor choices may include reading books, dramatic play, puzzles, music, and art experiences.
End of the Day
5:00-5:30 Primary teachers change diapers or help with potty; children work on quiet activities until they go home.
* These schedules are flexible and may change according to a child's individual needs as well as the groups' needs and interests.