---
Wendy Baker (Luckman Fine Arts Complex), executive director, was recently recognized as an ambassador for the promotion of world arts and cultures in the United States. She has been invited to participate as a delegate in the UN Arts Initiative's Cultural Bridges Program, under the auspices of the International Fund for the Promotion of Culture. As director of an important cultural landmark in our community, Baker will also be attending the Khajuraho Festival of Dances in India, as well as an important series of showcases and symposiums in Chennai. She will also meet with officials in New Delhi.
---
Bianca Guzmán (Chicano Studies) was selected as a Massachusetts Institute for College and Career Readiness (MICCR) Senior Research Fellow, 2015. Guzmán is director of "GO East LA: A Pathway for College and Career Success." Read more: /univ/ppa/publicat/cal-state-la-professor-and-go-east-la-director-selected-miccr-senior-research
---
Daphne Liu (Mathematics) is the winner of the 2015 Mathematical Association of America's Southern California-Nevada Section Outstanding Teaching Award, which was presented at the association's spring meeting on March 14, 2015. The award recognizes teachers who display extraordinary classroom teaching efforts that have an influence beyond their institutions. Liu will also be the section's nominee for the MAA Deborah and Franklin Tepper Haimo Awards for Distinguished College or University Teaching of Mathematics.
---
Corporal John Martin (Public Safety) was recognized by the Peace Over Violence Foundation for his work in advocating for survivors of sexual assault. The organization acknowledged Martin during its 6th Annual Task Force Ceremony. For photos from the 2014 event: https://www.facebook.com/media/set/?set=a.10152871247619161.1073741857.22179304160&type=1
---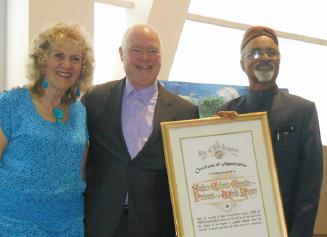 Joseph Prabhu (Philosophy), far right, received a certificate of recognition for outstanding interfaith leadership to the Southern California Parliament of the World's Religion and for co-chairing the third SEEDS OF PEACE Conference at Loyola Marymount University on March 8, 2015. The certificate was presented by Daniel Tamm, interfaith liaison for L.A. Mayor Eric Garcetti.
---
---
James Ford III (Music), member of the Clayton-Hamilton Jazz Orchestra, received a Grammy nomination for the Best Large Jazz Ensemble Album for the recording of "The L.A. Treasures Project," Dec. 5, 2014. The orchestra was formed in 1985 and has received enthusiastic responses from fans and reviewers. The big band was named the in-residence ensemble for the Hollywood Bowl Jazz Series from 1999 to 2001.
---
Alex Harwood (Information Technology Services), far right, and a team of graduate students placed first in the west region of the Inaugural Student Simulation Competition, hosted by the Network of Schools of Public Policy, Affairs, and Administration at the USC Sol Price School of Public Policy on Feb. 28, 2015. Read more: http://www.naspaa.org/news_release/Regional-West-2015NASPAACompetition.pdf
---
Raul Leyva (Facilities Services), left, was presented a Safety Service Award from the Risk Management & Environmental Health and Safety (RM&EHS) Office for showing exceptional stewardship of the campus safety programs and never experiencing or reporting an occupational injury or illness, Nov. 21, 2014. Kevin Brady (RM&EHS) said, "Leyva has worked at Cal State L.A. for more than 40 years and during those years of service in positions which represented a significant exposure to occupational injury or illness. He has exhibited a consistently positive attitude and performance towards a safe working culture." The Safety Service Award plaque can now be seen on the wall near the entrance of the Facilities Services office in Corporation Yard, room 246.
---
Howard Masuda (University Tutorial Center), center, was inducted as a Fellow of the Council of Learning Assistance and Developmental Education Association (CLADEA) during a ceremony at the National Association for Developmental Education's annual conference in Greenville, SC, on Feb. 26, 2015.  Newly-inducted fellows are presented with a plaque and medallion. Selection as a fellow represents the highest honor conferred upon professionals in learning assistance, tutoring and developmental education.
---