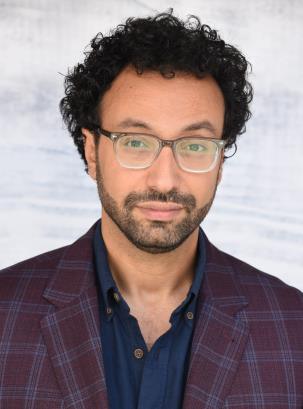 College of Business and Economics
Office Location ST801
Welcome to my page
Here's a little bit about me, since you're curious.
I got my Ph.D. in Management from the University of Oregon in 2019 (yes, former Duck, I know nothing about football though) before joining the faculty at California State University Los Angeles as an Assistant Professor of Entrepreneurship. My research combines theoretical and empirical insights from strategy and organization theory to investigate various topics at the intersection of business and society. My main focus is on social innovation and entrepreneurship, ethics and sustainability, pluralism and complexity, cross-sector partnerships, and issues of power and social change. I use primarily a qualitative approach, though lately, I have been digging into the use of machine learning and topic modeling with the help of a few scholars. My subjects of study are varied. Currently, I have ongoing projects on homelessness, local art scenes, governance in multi-sided platforms, access and inclusion in healthcare, and B-crops. Before the professional nerdom, I had a successful career in human resources and corporate social responsibility in various multi-national corporations. I was also a semi-professional musician for a big chunk of my adult life in Egypt where I grew up. 
You can find me on Twitter @metia12.  You can also subscribe to my website at mhassanawad.com (coming soon).
Publications
Conference Proceedings:
Awad, M. H. (2022). Marginalizing disorder: Paradoxical tensions and the failure of local collective organizing. Academy of Management Proceedings, (1) 13351.
Awad, M. H. (2022). Antenarratives of Natural Resources and the emergence of new industrial clusters. Academy of Management Proceedings, (1) 15041. 
Awad, M. H. (2021). "COVID-19 will bring us together: The dynamics of place and the structure of cross-sector partnerships". Academy of Management Proceedings. (1)13399

. (

Selected as a Best Paper in the SIM division).
Ongoing Scholarly Projects:
Awad, M. H. "Paradox of Local Collective Action"(title redacted). Revise and resubmit at the Journal of Management (2023)
Awad, M. H. and Dentoni, D. Beneficiaries in cross-sector partnership. Writing phase to submit to Journal of Management Studies (2023).
Awad, M. H., MacDonald, A., and Kotilogu, S.  governance of digital platforms. Data collection phase to submit to Journal of Management Studies (2024).
Awad, M. H., Dentoni, D., Bacq, S., Osborne, S. long-term local collective action. Integrative review targeting Journal of Management (2024).
Awad, M. H. and Kim, S. parallel stigma and legitimacy work in new venture creation. Writing phase to submit to Administrative Science Quarterly (2024).
Teaching and Pedagogy:
MGMT3070 – Management and Organizational Behavior
MGMT5200 – Entrepreneurship: Launching New Ventures
MGMT4202 – Social Entrepreneurship
MGMT5102 – Sustainability, CSR, and Business Ethics
Education
University of Oregon, Ph.D. in Management, 2019
Rotterdam School of Management, Erasmus University Rotterdam, MS in Business Research, 2014
The American University in Cairo, MBA in Human Resources, 2010
Ain Shams University, BS in Pharmaceutical Sciences, 2006