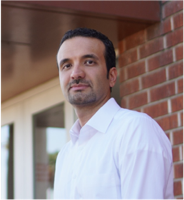 College of Engineering, Computer Science, and Technology
Department of Civil Engineering
Office Location ETA-215
INTRODUCTION
Mehran Mazari is an Associate Professor of Civil Engineering at California State University Los Angeles. His research interests include Infrastructure Materials, Sustainable and Resilient Transportation Infrastructure, and Applied Data Science and Machine Learning. He has been actively involved in a number of federal and state-funded research projects. Mehran is the editorial board member of the CSU Journal of Sustainability and Climate Change, handling editor of the Transportation Research Record (TRR) of the Transportation Research Board, and associate editor of the International Journal of Pavement Engineering. 
Dr. Mazari is the founding director of the Sustainable Infrastructure Materials Research Lab (SIM-Lab) at California State University Los Angeles. 
Mehran is a member of the Highway Pavement Committee, and the Sustainable Transportation Committee of the American Society of Civil Engineers (ASCE). 
Connect: LinkedIn, Google Scholar, Microsoft Academic, ResearchGate, Publons, ORCID
---
RESEARCH INTERESTS
Sustainable and Resilient Transportation Infrastructure
Infrastructure Materials and Pavements 
Applied Data Science and Machine Learning
Concrete 3D Printing
Automation and Robotics in Construction
---
TEACHING EXCELLENCE
Excellence in Civil Engineering Education (ExCEEd) Fellowship Award – American Society of Civil Engineers (ASCE)
Sustainability Across the Curriculum – Santa Clara University (SCU) Center for Sustainability
Building A Stronger Curriculum with Kiewit (BSCK), Kiewit University Relations
Professor Training Fellowship – National Center for Asphalt Technology (NCAT) at Auburn University
---
TEACHING INTERESTS
Civil Engineering Materials
Highway and Airfield Pavement Design
Transportation Engineering
Highway Engineering and Design
Communications for Civil Engineers
---
HONORS AND AWARDS
2018 - 

Best Paper Award, International Academy, Research, and Industry Association, The Third International Conference on Advances in Signal, Image and Video Processing, held in Nice, France, May 20 - 24, 2018. (co-authored with Pourhomayoun)

2015 - Outstanding Younger Member Paper Award, "International Highway and Airfield Pavement Conference" from American Society of Civil Engineers (ASCE)/Transportation and Development Institute (T&DI)
2014 - Paper Award, "2014 T&DI/ASCE-LTPP International Data Analysis Contest" from Federal Highway Administration and American Society of Civil Engineers
2014 - International Road Federation (IRF) Fellowship
2013 - Dwight David Eisenhower Transportation Fellowship, Federal Highway Administration, U.S. Department of Transportation
2013 - Graduate Research Elevator Pitch Competition Award, University of Texas at El Paso, Graduate School
2012 - Dwight David Eisenhower Transportation Fellowship, Federal Highway Administration, U.S. Department of Transportation
2012 - Cotton Memorial Graduate Fellowship, University of Texas at El Paso, Graduate School
---
PUBLICATIONS (Google Scholar Profile)
---
PROFESSIONAL ACTIVITIES
Faculty Advisor, Institute of Transportation Engineers (ITE)
Faculty Advisor, International Road Federation (IRF) Fellowship Program
Faculty Advisor, American Society of Civil Engineers (ASCE) 
Associate Member, American Society of Civil Engineers (ASCE)
---
Research webpage: https://mehranmazari.wixsite.com/sim-lab 
Additional Website
http://mehranmazari.wixsite.com/sim-lab