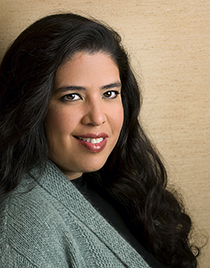 College of Arts and Letters
Office Location TVFM204
Ligiah Villalobos is the Writer and Executive Producer of the independent feature film Under the Same Moon, (La Misma Luna), released by Fox Searchlight and The Weinstein Company.  The film was an Official Selection at the 2007 Sundance Film Festival and became the highest sale for a Spanish-language film in the history of Sundance.  Made for under $2M, the film has earned over $23M worldwide.
More recently, Villalobos won a Humanitas Prize in 2013 for the Hallmark Hall of Fame movie, Firelight, produced by Alicia Keys and Mary Martin, which aired on ABC.
Villalobos has developed projects for multiple studios and networks, including ABC, NBC, ABC/Family (now FREEFORM), F/X, Showtime, BET, and HBO, among others.  The latest being, a ½ hour pilot for STARZ titled The Dirty Girls Social Club, based on the NY Times bestselling book. 
Villalobos was also the Head Writer for three seasons on Nick Jr.'s hit children's show Go, Diego! Go!
Villalobos has consulted on two Pixar movies, Planes and the upcoming Day of the Dead project titled Coco, as well as a TV series for SPROUT titled Nina's World.
Before becoming an independent writer/producer, Villalobos was a studio executive at The Walt Disney Company, where she oversaw television production in Latin America for five years, launching eight children shows in seven countries and then overseeing the Writing Fellowship Program and the Directors Training Program for one year.  She then worked as a Current Programming Executive at The WB, where she oversaw six prime times shows, including the four highest rated shows on the network. 
Villalobos is attached to do an English-language adaptation of the film The Other Mother, which was Brazil's entry to the Academy Awards last year.  She also has an animated feature film in production for a Canadian/Mexican co-production titled Chito and the Land of Xo (aka Koati).  The Real MVP, a TV movie she co-wrote, based on the life of MBA player Kevin Durant's mother, which was produced by Queen Latifah's production company, premiered on Lifetime, Mother's Day weekend, 2016.
Villalobos has been a contributor to The Huffington Post, The Black List Blog and Americana magazine.  She is on the Board of the Writers Guild Foundation, the National Hispanic Media Coalition, and the Immigrant Defenders Law Center.  She received her MFA in Creative Writing from Antioch University.
Additional Website
http://www.imdb.com/name/nm0897788/?ref_=nv_sr_1