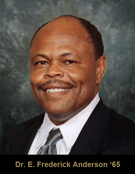 College of Health & Human Services
Office Location ST816
Dr. E. Frederick Anderson, MSW, PhD, LCSW, MFT
Professor Emeritus and Founding Director, School of Social Work and Master of Social Work Program, College of Health and Human Services
Dr. Anderson is the recipient of the Distinguished Faculty Alumnus Award granted at the Cal State Alumni Gala in 2011 by then President James Rosser.  
INTRODUCTION
In 1991 Dr. Anderson joined California State University, Los Angeles as a Full Professor and Chair in the then Department of Social Work to oversee the development of a Master of Social Work Program. Prior to coming to California State University, Los Angeles, Dr. Anderson was one of the Administrators of the original College of Human Services in the CSU quartered at San Diego State University .   He  successfully navigated the process of review for the new masters degree program in Social Work  at Cal State LA that admitted its first MSW class in 1997.
 Dr. Anderson became the Founding Director of the School of Social Work in 1997. He authored the document approved by the academic senate to change from departmental to School Status. The faculty graduated its inaugural MSW class in 1999 and achieved full accreditation in 2000, thus protecting its first graduates with retroactive accreditation. Dr. Anderson was the first Principal Investigator on training grants from the Inter University Consortium, Los Angeles County Department of Children and Family Services and the California Social Work Education Consortium at Berkeley, which provided stipend support for graduate education in social work. The consortia consists today of all accredited Departments and Schools of Social Work in California. Dr. Anderson retired in 2011 and was in the Faculty Early Retirement Program wherein he taught an additional five years at a reduced load.  Dr. Anderson's last act while in the FERP program was to Chair the Search Committee of the School of Social Work which was successful in hiring two new faculty and a new Director for the program effective August of 2016. 
---
TEACHING INTERESTS
Teaching interests include the history of social welfare and the western treatment of social need from feudalism through Social Security, as well as the analysis and application of social policy and the process of macro practice, including community organization tactics and techniques. Dr. Anderson has maintained a rigorous teaching schedule of three courses per quarter after 9 1/2 years as Chair/Director 
---
RESEARCH
Dr. Anderson was the Principal Investigator (PI) on a plethora of grants for Title IVE Training Grants and Stipends and the California Social Work Education Center (CalSWEC), $900,000. Dr. Anderson was Principal Investigator for Support for Curriculum in Child Welfare through the Inter-University Consortium of Los Angeles County that provides stipend support for MSW students who elect child welfare placements in the amount of $18,500 dollars per annum. Dr. Anderson initially oversaw the contracting for the Child Welfare Training Center, off campus that has had tremendous impact on the Child Welfare Community, Award for 2000-2001 is $685,000. Dr. Anderson also pioneered in expanding the life cycle in the curriculum by pushing to have an Aging Concentration within the School of Social Work. As such he was one of the Founding Director's and Principal Investigator for a Hartford Foundation Contract through "Partners in Health Care", Consortium for Stipends in the Field of Aging. A consortium of MSW programs in the Los Angeles basin collaborated in the acquisition of stipend support for Geriatric Social Work placements. For Cal State LA's School of Social Work this has built a foundation for student support in our Concentration in Aging.
---
PUBLICATIONS AND PRESENTATIONS
| Title | Date |
| --- | --- |
| Anderson, E. Frederick & Delgado, Roger. Cross Cultural Issues in Group Work, in Haight, Barbara and Gibson, Faith. Burnsides Working with Older Adults: Group Process and Techniques Fourth Edition. Boston: Jones and Bartlett Publishers, 2005 | 2005 |
| Anderson, E. Frederick. "Community Based Primary Prevention for Pre-Delinquents". In Barrett, Alan & White, Doris A. (Ed.) Seventh Annual Institute for Youth Services Management: Coping with and Reducing Youth Crime and Substance Abuse: Strategies for Impacting Hard-core and Disadvantaged Populations. Los Angeles: California State University, Los Angeles, Institute for Criminal Justice Studies and Ahmanson Foundation. 1996, pp. 65-71. | 1996 |
| Anderson, E. Frederick. "Turning Points and Pathways into Youthful Offending." in Barrett, Alan and White Doris A. Sixth Annual Institute for Youth Services-Management: Alternatives to the Doomsday Projections of Troubled Youth. Los Angeles: California/ State University Los Angeles, Institute for Criminal Justice Studies and Ahmanson Foundation. Pp. 66-70. June 20-July 1, 1994 | 1994 |
| Anderson, E. Frederick and Delgado, Roger. Cross -cultural issues in group work. In I. Burnside & M.G. Schmidt (Eds.) Working With older adults: group process and techniques. ( 3rd ed.) Boston: Jones and Bartlett. 1994 | 1994 |
| Anderson, E. Frederick. "The Role of the Black Father: Developing Inclusive Strategies for Perinatal Programs." In Morton, Jean and Wilkinson, Deborah. Promoting Child and Family Health. Washington, D.C: The National Maternal and Child Health Clearinghouse, 1993. Pp. 176-184. UC Berkeley, Dwight-Darby Complex  | 1993 |
---
PROFESSIONAL LICENSESURE
Licensed Clinical Social Worker (LCSW) 1969 California Board of Behavioral Sciences 
Licensed Marriage Family Therapist, (MFT) 1969    Callifornia Board of Behavioral Sciences 
EDUCATIONAL BACKGROUND
PhD Social Work June 1976
University of Southern California
Los Angeles, California
MSW Social Work June 1967
San Diego State University
San Diego, California
BA Sociology( Social Welfare Option) June 1965
California State University, Los Angeles
Los Angeles, California