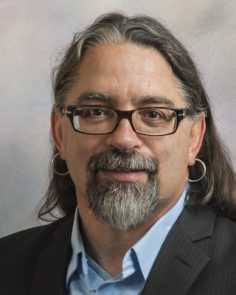 College of Natural & Social Sciences
Departments of Latin American Studies and History
Office Location KHC4077a
Enrique C. Ochoa is Professor of History and Latin American Studies at California State University, Los Angeles. A native of Los Angeles, he grew up in the San Gabriel Valley and received his B.A., M.A., and Ph.D. degrees in History from UCLA. From 2013-2014 he was the President's Distinguished Professor at CSULA, and from 2006 to 2008, the Michi and Walter Weglyn Endowed Chair of Multicultural Studies at Cal Poly Pomona. He has published over a dozen books and journals including Feeding Mexico: The Political Uses of Food Since 1910 (2000); Latina(o) Los Angeles: Migrations, Communities and Political Activism (co-editor, 2005); History and Critical Pedagogies: Transforming Consciousness, Classrooms, and Communities, a special issue of Radical History Review (co-editor, 2008); "Water:  History, Power, and Crisis," a special issue of Radical History Review (co-editor, Spring 2013), and "Reframing Immigration in the Americas," a special issue of Diálogo: An Interdisciplinary Journal of Latina(o) Studies (co-editor, 2015). He has published several articles on Mexican politics and history, food studies, Latina(o) studies, and critical community-based education.
He has taught a broad range of classes in Latin American Studies and History, including: "Modern Mexican History"; México and the Chicana/o People;" "Food, Power, and Culture in Greater México"; "History of Central American and the Caribbean"; "Introduction to Latin American Studies"; "Revolution in History"; "Critical Public Histories"; "U.S.-Latin American Relations"; "Food Justice in Latin America"; "Introduction to Central America"; and "Labor and Social Movements in the Américas".
Enrique works to link his classes and research to social justice movements to draw on the rich experiences of students and Los Angeles communities. He is a past board member of the Coalition for Humane Immigrant Rights of Los Angeles (CHIRLA), Historians Against the War, Latin American Perspectives, and Radical History Review. He is a founder of the Latina/o History Bee and is currently working with local school districts to implement an intersectional ethnic studies curriculum for K-12 classes.
Additional Website
https://calstatela.academia.edu/EnriqueOchoa