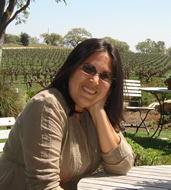 College of Natural & Social Sciences
Department of Political Science
Office Location ETA 529
INTRODUCTION
I am a native Californian, born and raised in Boyle Heights. I joined the Political Science department at CSULA in the Fall of 2008 and am also affiliated with the Latin American Studies Program.
---
TEACHING INTERESTS
I teach a wide variety of courses in World Politics, Foundation of Global Politics, International Poltiical Economy (undergraduate and graduate courses), Latin American Politics (undergraduate and graduate), Immigration Politics and Policy, and Politics of the Developing World.
The faculty advisor for the Model United Nations program is Dr. Cynthia McMeekin.  Students who wish to participate in this program must enroll in POLS 4201 and POLS 4202, which are offered every other year.  This program is open to all CSULA undergraduate students, irrespective of major.  Students who wish to participate in this program will learn about the structure, history and mission of the United Nations in POLS 4201.  Additionally, students will learn how to prepare for the role of ambassador to the United Nations, as well as how to accurately represent the issues from the perspective of the country repesented at the National Model United Nations conference in POLS 4202. 
Dr. McMeekin is now the faculty adviser for the Model UN Club, which is a student-led organization that operates independently from Cal State LA's participation in the NMUN-New York conference.  The Club provides students with an opportunity to participate in civic engagement with local communities, putting into practice the values of the United Nations, as well as offer students the opportunity to compete in local conferences.  Please visit the Model UN Club's Facebook page for more information.
The Model UN program at Cal State LA is very strong.  Since Fall 2008, we have had the privilege of representing Cuba, Turkey, Spain, Belgium, El Salvador, Colombia, and Peru.  Our student delegates have been recognized for their Outstanding Position Papers and their Outstanding Performance as delegates at the conference.  Now, under the leadership of Dr. McMeekin, Cal State continues its tradition as it attended the NMUN-DC conference in November 2018 representing Mexico and Venezuela. Cal State LA was awarded Outstanding Delegation for its representation of Mexico and Distinguished Delegation for its representation of Venezuela.  Additionally, two committees were awarded Outstanding Position Paper and one Delegate was awarded Outstanding Delegate in Committee. 
---
EDUCATIONAL BACKGROUND
Ph.D. Political Science 2008
Claremont Graduate University
Claremont, CA
M.A. International Political Economy 1999
Claremont Graduate School
Claremont, CA
B.A. Political Science 1992
University of California, Berkeley
Berkeley, CA
---