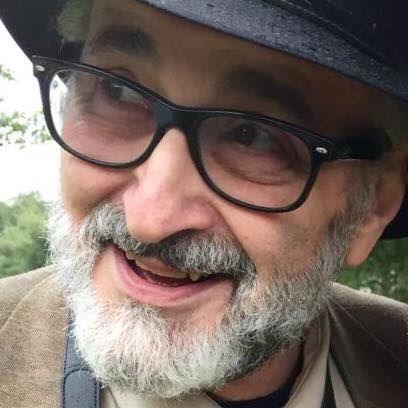 College of Arts and Letters
Department of TV, Film and Media Studies
Office Location MUS251
INTRODUCTION
I am a professor specializing in film and video production in the Department of Television, Film and Media Studies. I have been a university professor for the last 43 years. I have been on the faculty here since 1981, with two years leave (82-84) to work as Program Director in charge of the Video Center at The American Film Institute. Prior to joining the faculty at CSLA I taught at Temple University in Philadelphia, West Virginia State College and California College of Arts and Crafts in Oakland. As a director, producer and/or writer I have made more than 300 films and video tapes in the last 52 years.
---
During my career I have taught a wide range of film and video production and studies classes at both the graduate and undergraduate levels. I enjoy teaching film and video production in a variety of creative environments.
I seek out unique learning situations at every opportunity and from 1986-2005 I was involved with the CSU Summer Arts program , first at Cal Poly SLO (86-87), then at Humboldt State (88-95), Cal State Long Beach (96-98) and Fresno State (2005). At Summer Arts we were able to create a one-of-a-kind high intensity hands-on workshop for graduate and advanced undergraduate students in professional 35mm motion picture production techniques. This groundbreaking program attracted the sponsorship of major entertainment industry companies like Kodak, Fuji, Panavision, Sony, Warner Bros., Avid, Mole Richardson, Canon, Kino Flo, Chapman and Fotokem. 
I integrate my production with my teaching. My crews are almost always made up of at least 80% students and former students. In this way I provide my advanced students with real world opportunities while at the same time giving them an opportunity to begin networking with professionals and former students already working in the field. 
---

PROFESSIONAL/CREATIVE ACTIVITIES

Film is the most collaborative art form and requires the coordinated efforts of writers, cinematographers, directors, performers and others. My film and video works include substantial collaborative work with artists from theater, music and dance. I have created music video and dance works with artists like Bobby McFerrin and choreographer Peter Pucci. I have been fortunate to have worked with some wonderful artists including Edward James Olmos, John Wesley Harding, Kristin Hersh, LaVar Burton and Vilmos Zsigmond.

During the last five decades a significant portion of my work has been documentaries and music videos.  The music videos allow me to set aesthetic challenges for myself while engaging in interesting collaborations. I love to use color and visual texture as a lens on the quality of performance and a use of dreamlike spaces.

Through the documentaries I can explore things of interest to me (usually socio-political issues, education, human rights, healthcare, the arts or developments in film and video production),  In addition to my other projects I have created public service campaigns promoting education, human rights and health
A Representative Selection of Recent Production Activities
(1987-2016)
Date
Productions
2014-Present
Faculty Award Documentary Profiles, Thirty Six documentary shorts created for the presentations of the 2014, 2015, 2016, 2017, 2018 & 2019 Cal State L.A. Outstanding Professor, Outstanding Lecturer and President's Distinguished Professor Award winners All eighteen can be seen on this linked YouTube Playlist (Two from 2014 are included below)


1-OPA-Choi Chatterjee from Alan Bloom on Vimeo.

6-PDP-James Brady from Alan Bloom on Vimeo.

2011
I Built It Green! (documentary & spots) State of California, Office of the Governor
.
2008
I Built It! (documentary & spots) California Department of Industrial Relations & Office of the Governor
.
2007
Disaster Assistance

(spot campaign) FEMA, Homeland Security & The Governor's Office of Emergency Services

2006
Tradition, Place, Promise and Purpose (PSA campaign) The Division of Extended Education at California State University, Los Angeles
2002
Living a Legacy of Excellence: The Department of Chemistry and Biochemistry at California State University, Los Angeles (documentary)
2001

Award Reel,

created for a ceremony honoring my academic and creative career, held at the statewide CSU Media Arts Festival. Clips include (in order): Computer Illusions (documentary) The Learning Channel and more than 20 international broadcast networks (1998); Starring…The Actors: Roy Scheider Episode (Syndicated Television Series) (1983); Apprenticeships: California's Best Kept Secret(documentary) California Department of Industrial Relations, narrated by Edward James Olmos (1999); Residential Roofing Safety (documentary) CalOSHA, California Department of Industrial Relations, narrated by Edward James Olmos (2001); Let the Bells Ring(PSA Campaign) with LaVar Burton, American Association of State Colleges and Universities (1989); Teaching: Imagine It (PSA Campaign) Jaime Escalante Spot (1990); Teaching: Imagine It (PSA Campaign) Mary Laycock Spot (1990); Opportunity (music video) Bobby McFerrin, Capitol/EMI (1987); Cupid and Pycho (music video) John Wesley Harding, Rhino Records (1996): Good Things (music video) BoDeans, Warner Bros.(1995); Let The Bells Ring (music video) 7A3, Geffen Records (1992); Kill The Messenger (music video) John Wesley Harding, Warner Bros.(1992); One (music video) BiGod20, Warner Bros. (1994); Sing (Dance Video) Peter Pucci, Choreographer, Dance in America, PBS (1993); Beestung (music video) Kristin Hersch, Warner Bros. (1994); Summer Single (music video) John Wesley Harding, Warner Bros. (1993).

 

2001
Commercial and Residential Roofing Safety (two documentaries) CalOSHA, California Department of Industrial Relations. Narrated by Edward James Olmos.
2000
CalOSHA Consultation (documentary) California Department of Industrial Relations. Narrated by Edward James Olmos.
2000
Digital Hollywood (documentary). PBS/KCET.

1999
Apprenticeships: California's Best Kept Secret (documentary) California Department of Industrial Relations. Narrated by Edward James Olmos.
1998
TIPP (documentary) California Department of Industrial Relations. Narrated by Edward James Olmos.
1997
Computer Illusions (documentary) The Learning Channel and more than 20 international broadcast networks
1997
Tomorrow's Education Today (documentary) Video Cassette, CSU Institute/CEU
1996
Cupid and Pycho (music video) John Wesley Harding, Rhino Records
1995
Good Things (music video) BoDeans , Warner Bros.
1994
Beestung (music video) Kristin Hersch, Warner Bros.
1994
One (music video) BiGod20, Warner Bros.

1994
G.O.T.V. (documentary) The California Democratic Party
1993
Summer Single (music video) John Wesley Harding, Warner Bros.
1993
The Truth (music video) John Wesley Harding, Warner Bros.
1993
Sing (Dance Video) Peter Pucci, Choreographer
1992
Computer Visions (documentary) PBS, Laser Disc, Video Cassette
1992
Kill The Messenger (music video) John Wesley Harding, Warner Bros.
1991
The World (music video) John Wesley Harding, Warner Bros.
1990
Scared of Guns (music video) John Wesley Harding, Warner Bros.
1989
Let The Bells Ring (music video) 7A3, Geffen Records.
1988
Computer Dreams (documentary) PBS, Laser Disc, Video Cassette
1987
Opportunity (music video) Bobby McFerrin, Capitol/EMI

---
Educational Background
M.F.A. Television 1975, California College of Arts and Crafts (renamed California College of the Arts) , Oakland;
B.A.with Honors and Distinction in Art Studio/Filmmaking 1973, Sonoma State, Rohnert Park, CA;
---
Fall 2019 Schedule
<
Course
Sect. No.
Title
Units
Day & Time
Room
TVF 499
TVFT 5990
Various
Directed Study and Thesis

0-3

By Arrangement
By Arrangement

TVF 5

200

Graduate Seminar:

Documentary Film and Television

3.0

Tuesday Lecture 6:00-8:45 PM
TVFMC 210

TVF 4300

 

01,02,03

Documentary Field Production

3.0

Thursday Lecture 9:00-10:40 AM,
Thursday Lab 11:00-12:40 PM,
 
MUS 255
 
 
 
 
 
 
Office Hours
 
Monday: 5:00-7:00 PM MUS 251
Tuesday: 4:30-5:30 PM TVFMC 210
+ARR
---
Additional Website
http://alanbloom.com